In recent years, video has established itself as the most performing content for users. Compared to textual content and images, a video is capable of attracting more attention and encouraging users to take actions, such as visiting a website or requesting information. For this reason, more and more companies today are investing in creating video content for their social pages, for YouTube and for the company website.
In the last year, COVID-19 has disrupted the lives of the world population and has upset all kinds of predictions, both from an economic and marketing point of view. With the lockdown, companies and major agencies have had to rethink all their campaigns and customer communications. People were housebound, frightened and in need of a deeper and more authentic closeness. Brands had to work immediately to respond to these new needs. Video marketing is one way for them to continue to compete. And if you are part of a company that will implement video marketing, knowing the basic technical processing of video is very important, one of which is how you convert and edit video.
If you need to convert video in your work, you will know how important it is to use the right video converter program. Nowadays, there are many video converting apps, but not all of them can give you what you need. That is why you should look for the best conversion program for your videos. One video conversion app that stands out above the rest is Wondershare UniConverter. It is available for Windows and Mac. Its new version is UniConverter 13.
Wondershare UniConverter is an application that allows you to convert videos easily and quickly. This app can handle all kinds of video conversions that you can think of. This application can help you convert more than 1000 different audio and video formats. This powerful application also helps compress the size of video files without compromising on quality. Also, Wondershare UniConverter comes with various video editing tools to make getting your work easier. With this program, you don't need any other video editing software to complete your task as it comes with everything you need and more.
What is Wondershare UniConverter?
As we have already said, this video converter is a tool used to convert mp3 to mp4, mp4 to avi and many other combinations. This app is the perfect tool for professionals and amateurs. The app is very easy to use, making it easy for anyone to use. The compatibility advantage of this app is amazing. It works with more than 1000 sound and video formats. In addition to converting videos, Wondershare UniConverter has tools that allow you to perform editing operations, such as rotating clips, cutting clips, pasting clips, recording screen content, adding filters, and much more.
Compatible with more than 1000 formats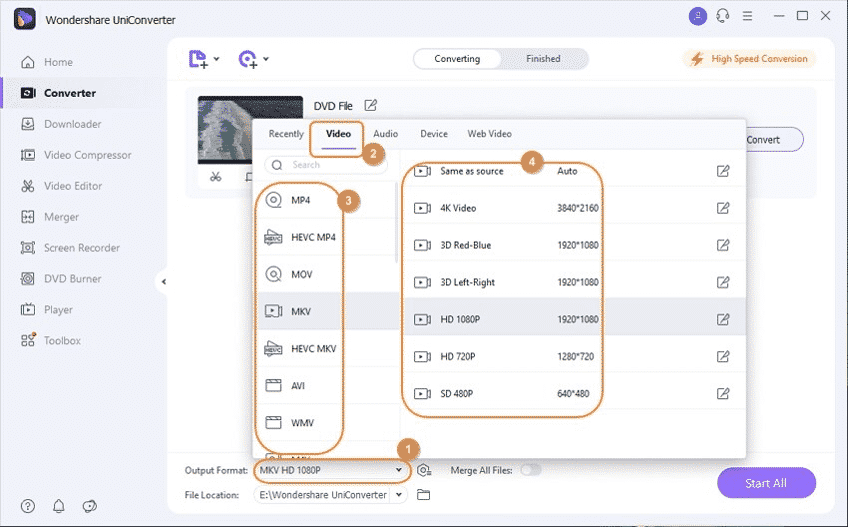 One of the many advantages of Wondershare UniConverter is its compatibility features. This program supports more than 1000 audio and video file formats. Some of the file formats that this application supports are MOV, MP3, MP4, AVI, WAV, etc. This means that whatever file format is presented to you (be it video or audio), you will have no problem converting it to any format of your choice. When it comes to video conversions, you have no limits with this powerful application. Another thing that you will love about Wondershare UniConverter is that it allows you to export video files with the highest quality.
Online Video Downloader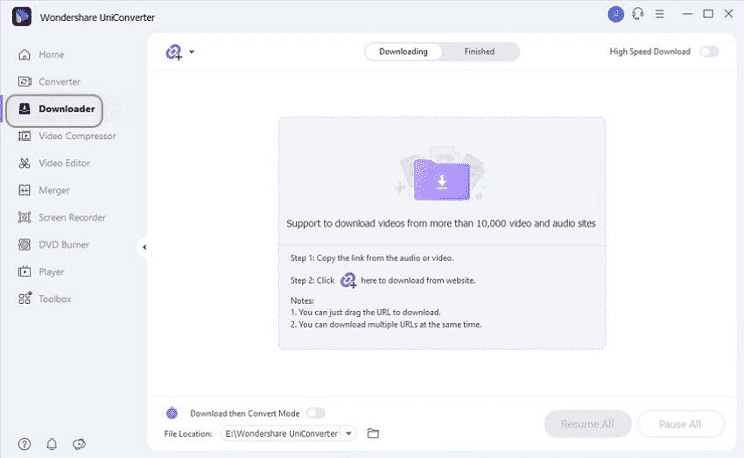 One of the many features that makes this app stand out from the rest is the video downloader. Wondershare UniConverter comes with a video downloader that allows you to import videos on your screen. To do this, all you have to do is paste the URL of any platform with video content. Supposing you want to get a video from YouTube, Vimeo, or Instagram, all you have to do is paste the URL of the video in order to download it. This can facilitate the realization of your project, since you do not need to visit other platforms to download videos. This saves you a lot of time and trouble.
Screen Recording
Do you want to record the content of your screen? If so, Wondershare UniConverter allows you to do it easily. This makes the application very versatile. All you have to do is select the appropriate option and the recording area or window that you would like to download. The screen recording function also works with secondary screens. This allows you to record a wide variety of videos. Be it tutorials, gaming or any other video, you can record video whatever you want.
Maximum Video Compression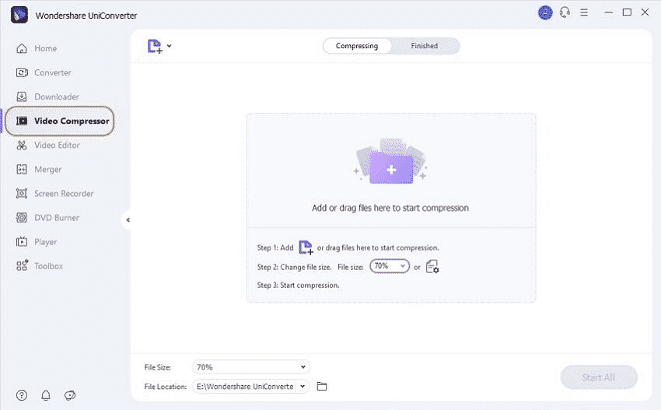 If you have a large video that you want to compress, Wondershare UniConverter allows you to do it easily. With it, you can easily compress large files and save them to a hard drive or even send them by email. This makes things much easier for you when working on your projects. Furthermore, the compression power of Wondershare UniConverter is considered to be one of the most powerful on the market. Best of all, even if you compress the size of a large video file, the quality of the video file will remain the same. Thus, you don't have to worry about the quality loss when compressing large files.
Download Wondershare UniConverter now!
Now that you know all the wonderful things you can do with Wondershare UniConverter, why not download it! With this powerful application, you can start to enjoy a lot of benefits that come with this super incredible application.
Remember that with this free video converter, you can convert all kinds of video and audio file formats to any format you want with Wondershare UniConverter. With this program, your converted files will continue to retain their original quality. Also, this app comes with tons of basic editing tools that you can use to edit your files however you want. With UniConverter, you can paste videos, add filters, cut videos, and much more.