The world of work has undergone a major transformation, and now more than ever, people are seeking opportunities to combine their careers with exploration. Enter digital nomad visas – a game-changer for those looking to live and work remotely in different countries. With these visas, individuals can embrace the freedom of being a digital nomad while immersing themselves in new cultures.
Digital nomad visas have gained immense popularity as an avenue for remote workers to make their dream of working and living abroad a reality. These visas offer flexibility and ease of entry, allowing individuals to explore exciting destinations without sacrificing their career growth. Whether you're a freelancer or employed by a company, digital nomad visas provide the opportunity to experience the best of both worlds.
So if you've been yearning for a life where work meets adventure, stay tuned as we guide you through the world of digital nomad visas.
What Is a Digital Nomad Visa?
A digital nomad visa is a special type of visa that allows individuals to live and work remotely in a foreign country for an extended period. It's like getting a golden ticket to explore new places while still earning money. With this visa, digital nomads can legally engage in professional activities while residing in another country.
Digital nomad visas are becoming increasingly popular as more people embrace the freedom and flexibility of remote work. These visas provide an opportunity for individuals to experience different cultures, immerse themselves in new environments, and expand their horizons.
Legal Permission to Work Remotely
One of the main advantages of a digital nomad visa is that it provides legal permission for individuals to work remotely while staying in another country. This means that you can continue earning income from your freelance work or remote job without worrying about breaking any laws or regulations.
With a digital nomad visa, you can enjoy the benefits of being location-independent without constantly worrying about your legal status. You can focus on exploring new destinations, meeting new people, and immersing yourself in local experiences.
Specific Requirements and Conditions
It's important to note that digital nomad visas typically have specific requirements and conditions that must be met by applicants. These requirements may vary depending on the country offering the visa. Some common criteria include:
Proof of employment or sufficient funds: Many countries require applicants to demonstrate that they have stable income or enough savings to support themselves during their stay.
Health insurance coverage: Some countries may require proof of health insurance coverage for the duration of your stay.
Criminal record check: In some cases, applicants may need to provide a clean criminal record check from their home country.
Limited duration: Digital nomad visas usually have a limited duration, ranging from several months to a few years. It's important to be aware of these time restrictions before applying.
While these requirements may seem daunting, they are in place to ensure that the visa program is being used for its intended purpose and to protect the interests of both the digital nomads and the host country.
Benefits of a Digital Nomad Visa
There are several benefits to obtaining a digital nomad visa:
Opportunity to explore new cultures: With a digital nomad visa, you have the chance to immerse yourself in different cultures, try new foods, learn new languages, and broaden your perspective.
Networking opportunities: Living in a foreign country as a digital nomad provides ample opportunities to network with like-minded individuals from all over the world. You can connect with other entrepreneurs, freelancers, and professionals who may open doors for future collaborations or partnerships.
Enhanced work-life balance: Being able to work remotely while living in another country allows for greater work-life balance. You can take breaks to explore your surroundings or engage in activities that bring you joy without feeling guilty about neglecting your work responsibilities.
Personal growth and development: The experience of living abroad as a digital nomad can contribute significantly to personal growth and development. It challenges you to adapt to new environments, become more self-reliant, and develop problem-solving skills.
While there are numerous advantages associated with digital nomad visas, it's important to consider potential drawbacks as well. These may include language barriers, cultural differences, homesickness, and potential challenges related to healthcare or infrastructure in certain countries.
Countries That Offer Digital Nomad Visas
Digital Nomad Visa Countries
Several European countries have introduced digital nomad visas, including Estonia, Germany, Portugal, and Croatia. These countries have recognized the growing trend of remote work and are actively welcoming digital nomads to live and work within their borders.
Each European country has its own unique requirements and conditions for obtaining a digital nomad visa. Let's take a closer look at what these countries have to offer:
Estonia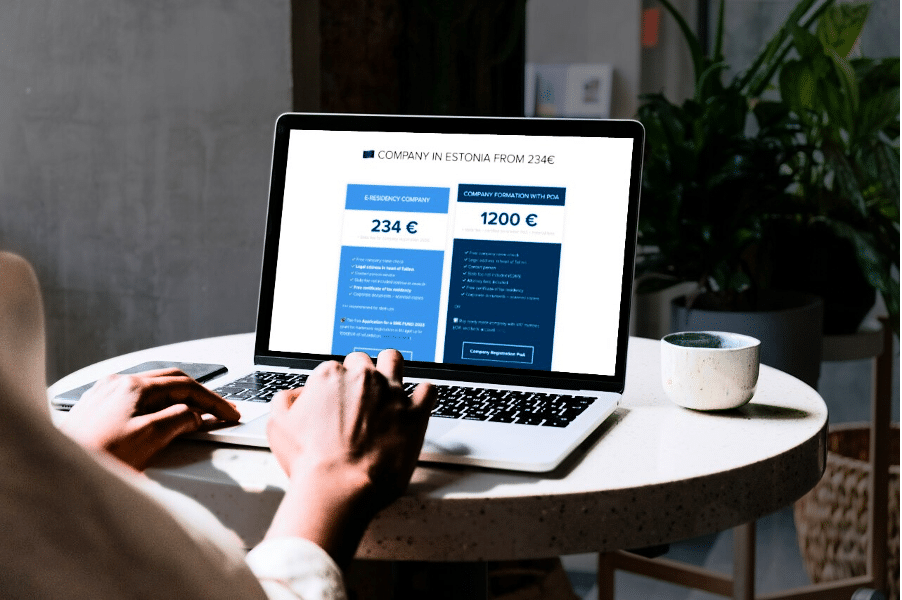 Estonia is known for being one of the most digitally advanced nations in the world, making it an attractive destination for digital nomads. The country offers a digital nomad visa that allows individuals to live and work in Estonia for up to one year. Some key benefits of the Estonian program include:
Streamlined application process: The application can be completed online, making it convenient and efficient.
Tax incentives: Digital nomads who obtain an Estonian e-residency can take advantage of the country's favorable tax system.
Access to local amenities: Estonia boasts excellent infrastructure, high-speed internet, and a thriving startup scene.
Eesti Consulting is a reliable and cost-effective company specializiing in company registration in Estonia for digital nomads.
Germany
Germany is renowned for its strong economy and rich cultural heritage. The German digital nomad visa provides an opportunity for remote workers to experience life in this vibrant nation. Here are some highlights of the German program:
Cultural immersion: Germany offers a rich cultural experience with its historic cities, picturesque landscapes, and diverse cuisine.
Work-life balance: Germans value work-life balance, making it an ideal place for digital nomads seeking a healthy lifestyle.
Excellent healthcare system: Germany has a well-developed healthcare system that ensures quality medical care.
Portugal
Portugal has become increasingly popular among digital nomads due to its affordable cost of living and pleasant climate. The Portuguese government has introduced a special visa program tailored specifically for remote workers. Here's why Portugal stands out as a desirable destination:
Affordable living: Portugal offers a high quality of life at a fraction of the cost compared to other European countries.
Beautiful landscapes: From stunning beaches to picturesque countryside, Portugal has diverse and breathtaking scenery.
Vibrant expat community: The country attracts a large number of expats, creating a welcoming and inclusive environment for digital nomads.
Croatia
Croatia is known for its stunning coastline, historic cities, and warm hospitality. With its digital nomad visa program, Croatia aims to attract remote workers who can contribute to the local economy. Here are some reasons why Croatia is an appealing destination:
Natural beauty: Croatia's crystal-clear waters and breathtaking national parks make it an ideal place for outdoor enthusiasts.
Rich history and culture: From ancient Roman ruins to medieval architecture, Croatia offers a wealth of cultural experiences.
Affordable lifestyle: Digital nomads can enjoy a comfortable lifestyle in Croatia without breaking the bank.
These are just a few examples of countries that offer digital nomad visas in Europe. Other nations such as Andorra also provide opportunities for remote workers to live and work legally within their borders. Each country has its own unique advantages and requirements, so it's important to research and choose the one that aligns best with your preferences and needs as a digital nomad.
Basic Conditions for Obtaining a Digital Nomad Visa
Common Conditions for Obtaining a Digital Nomad Visa
So, you've decided to embark on the exciting journey of becoming a digital nomad and exploring the world while working remotely. One crucial aspect to consider is the process of obtaining a digital nomad visa, which allows you to live and work legally in another country. While each country may have its own specific requirements, there are some common conditions that most digital nomad visas entail.
First and foremost, having a valid passport with sufficient validity is essential. Your passport should not be close to expiring anytime soon, as this could pose challenges when applying for a visa or entering another country. Make sure your passport has at least six months or more of validity remaining before starting your application process.
Another key requirement is providing proof of employment or freelance work. Countries want assurance that you have a legitimate source of income to sustain yourself while residing within their borders. This can be demonstrated by presenting contracts, letters from clients, or evidence of ongoing projects.
Financial means play an important role as well. You need to demonstrate that you have enough funds to support yourself during your stay in the country issuing the digital nomad visa. The amount required varies from country to country, so it's crucial to research the specific financial requirements beforehand.
Additional Factors Considered by Certain Countries
While the aforementioned conditions are generally applicable across many countries offering digital nomad visas, some nations may have additional factors that they take into consideration during the application process.
Health insurance coverage is one such factor that certain countries require. They want reassurance that you will not burden their healthcare system if any medical issues arise during your stay. Therefore, having comprehensive health insurance coverage may be mandatory when applying for these particular visas.
Language proficiency can also come into play in some cases. Certain countries may require applicants to demonstrate basic proficiency in their official language(s). This ensures that you can effectively communicate with locals and navigate daily life in your chosen destination.
Criminal background checks are another consideration for some countries. They want to ensure the safety and security of their citizens by verifying that you have no criminal record. This may involve providing a police clearance certificate or undergoing a background check as part of the visa application process.
Nationality Restrictions and Income Requirements
It's important to note that different countries may impose nationality restrictions on their digital nomad visas. Some visas may only be available to citizens of specific countries or regions, while others may be open to applicants from around the world. Make sure to research whether there are any nationality limitations before proceeding with your application.
Income requirements can vary significantly as well. While some countries do not have a minimum income requirement, others may expect you to provide evidence of a certain monthly income threshold. This helps ensure that you can sustain yourself financially without relying on public resources within the country issuing the visa.
How to Apply for a Digital Nomad Visa
Applying for a digital nomad visa can be an exciting and life-changing process. If you're ready to embark on your journey as a digital nomad, here's a step-by-step guide on how to apply for a digital nomad visa.
Visa Application Process
The first step in applying for a digital nomad visa is to familiarize yourself with the specific requirements of your chosen destination country. Each country may have its own application process, so it's important to do thorough research beforehand.
Online Application: Most countries now offer online visa applications, making the process more convenient and accessible. Begin by visiting the official website of the immigration authorities of your desired destination country. Look for the section dedicated to digital nomads or long-term visitors.
Required Documents: As part of the application process, you will typically need to submit various supporting documents. These may include proof of employment, such as an employment contract or client contracts if you're self-employed. You may be required to provide bank statements demonstrating sufficient funds to support yourself during your stay and travel insurance coverage.
Appointment or Interview: Depending on the country's requirements, you may need to schedule an appointment at the embassy or consulate of your chosen destination country. This appointment could be for an interview or document verification purposes. Be sure to carefully follow any instructions provided by the immigration authorities regarding this step.
Application Fee: Some countries charge an application fee when applying for a digital nomad visa. Make sure you are aware of any fees associated with your application and prepare accordingly.
Processing Time: The processing time for a digital nomad visa can vary from country to country. It's essential to plan ahead and submit your application well in advance of your intended travel dates.
Follow Instructions Carefully: Throughout the entire application process, it is crucial to carefully follow all instructions provided by the immigration authorities. Missing or incorrectly filling out any required forms or documents could result in delays or even rejection of your application.
Online Application
The online application is a convenient and efficient way to apply for a digital nomad visa. It allows you to complete the necessary paperwork from the comfort of your own home, eliminating the need for physical visits to embassies or consulates.
Pros:
Convenience: With an online application, you can complete the process at any time that suits you best, without having to adhere to embassy working hours.
Time-Saving: Applying online saves you valuable time compared to traditional paper-based applications, as there's no need for mailing or waiting in long queues.
Easy Document Upload: Online applications often provide clear instructions on how to upload all required documents, making it easier for applicants to submit everything correctly.
Cons:
Technical Difficulties: While rare, technical glitches can occur during the online application process. It's important to have a stable internet connection and be prepared for any unforeseen issues that may arise.
Limited Support: Unlike in-person appointments where you can ask questions directly, online applications may have limited support options available. Ensure you thoroughly understand the requirements before submitting your application.
Remember, each country's digital nomad visa program has its own set of rules and regulations. Make sure you carefully read through all guidelines and requirements specific to your chosen destination country. By following these steps and providing all necessary documentation accurately, you'll be one step closer to living your dream as a digital nomad!