In case you didn't notice, the last decade in gaming has seen quite a shift in terms of platform popularity. PC and console gamers still have their high-powered toys and yes, they still are very powerful and impressive. However, mobile gaming has been far and away from the most popular and most accessible gaming medium of the last decade.
This has led to a variety of games that have offered unique and addicting gameplay loops for the gamer on the go, and one of the most popular of these is the match-3 game genre.
Match-3 is a genre burst on the scene with Candy Crush still serving as the crown jewel of the genre. However, with the saturation of games of this nature on the market. It has become harder and harder to stand out from the crowd.
Well, what if you could win real-world prizes simply through playing? That's exactly what Prize Fiesta aims to offer its fans.
In this Prize Fiesta review, we take a look at the core gameplay, if this game is a legit service and we also take a look at the reviews out there to get a pulse on what people think about this game. Enjoy.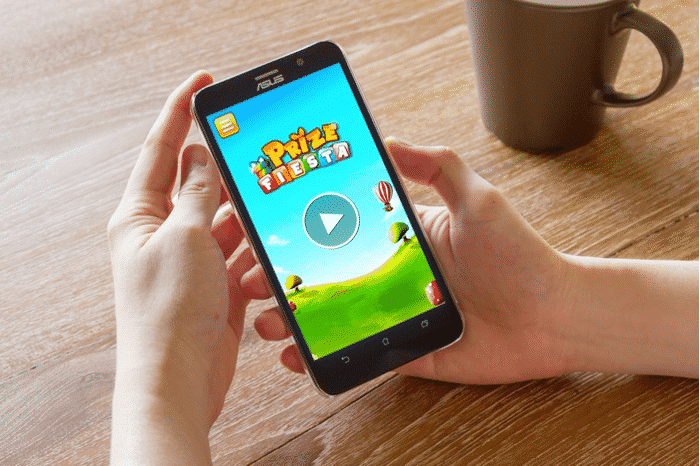 Fiesta or Siesta?
Firstly, let's take a look at the core gameplay for this title. In this game, you will play through a series of colourful and whimsical levels where your goal is to match up groups of three shapes or more to clear the board. You'll be able to match 4 or 5 items at a time to get helpful power-ups that make it even easier to clear the board. You'll have areas where you will have to clear pink goo to free shapes, allowing you to manipulate them. Then in others, it's all about matching up a quota of various colours.
You can also earn a series of GEMS that allow you to earn extra moves and make the levels easier to complete.
In short, it's very similar to just about any Match-3 game you have played like Candy Crush or Harry Potter: Puzzles and Spells. However, we don't mean that in a bad way. It's fun, addictive gameplay and serves as a great vehicle for the game to deliver its key feature, the prizes on offer.
Prizes Galore!
Okay, so now the reason why most of you are here, the glorious loot on offer here. Now, most games out there will offer in-game power-ups, skins and cosmetics as a way of rewarding players. However, the guys at Prize Fiesta don't think that this is good enough for their player base. Instead, they give players a means of playing and earning real prizes. These prizes can range from: smartwatches, Bluetooth speakers, PlayStation 4, Nintendo Switch or even top of the range TV's.
Now, we don't know about you, but we would take a TV over an in-game skin every time.
The way this works is simple. The player earns prizes by completing levels. To complete levels, you will need to be an adept match-3 player but you can also acquire GEMS that grant the player more moves per level, making the process easier.
Then, if you complete a level, you will earn mushrooms. These are the in-game currency that will help you earn prizes. These get added to your piggy bank and when you have enough, you can splurge on huge prizes.
However, you may feel a little overwhelmed and need some tips to succeed. Well, then read on.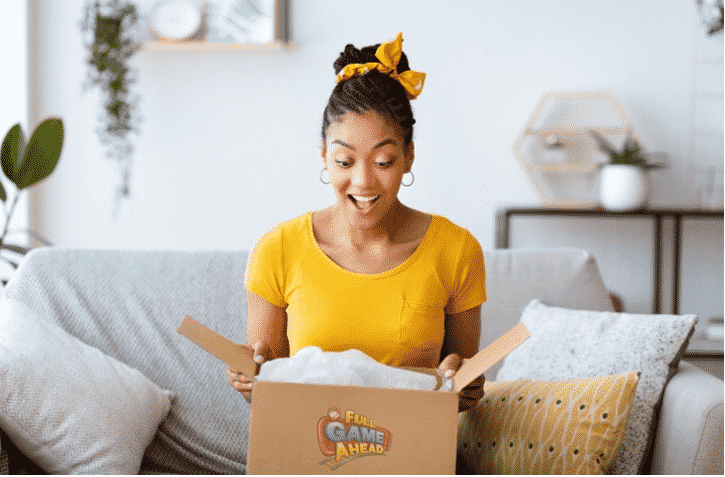 Tips To Win Prizes
We also took the time throughout this review to understand the best ways to earn virtual dollars in Prize Fiesta. So here are a series of in-game tips that will help you on your path to winning real-world treasures:
Don't use your GEMS for the sake of it. Hold on to them until you reach particularly hard levels
Be sure to talk to all the Dwarves that show up. These little guys offer great deals that could see you walk away with lots of mushrooms
Play with friends, this means that you can share the wealth, have fun and perhaps work together to earn double the amount of prizes
Play often. Try to carve out at least ten minutes a day to get the most out of this game
Is Prize Fiesta Legit?
One of the questions that must be on everyone's lips must be, is Prize Fiesta legit?
Well, we were cynical and sceptical going into this one too but, YES, Prize Fiesta is a legit and transparent service that makes good on its promises.
If you are able to earn up to $750 of in-game virtual dollars, this grants you access to the gift cave. From there, you will have a wealth of amazing prizes to choose from. You'll have games consoles, TVs, Smart Watches, Speakers and many more.
Plus, these aren't just knock off brands. You'll have products from luxury brands like Apple, Samsung and many more. So in short, Prize Fiesta is a legit and fair service, worth investing your time in.
The Word on the Street?
Don't want to take our word for it? Well, then why not check out some of the user reviews for this app. On the Google Play Store, this app has over 1.5 million downloads and 95,000 reviews which have averaged a score of 4.3 stars.
Now, that just doesn't happen by accident. The guys at Prize Fiesta clearly work hard to offer a legit and fun experience for their players and evidently, they are doing a great job.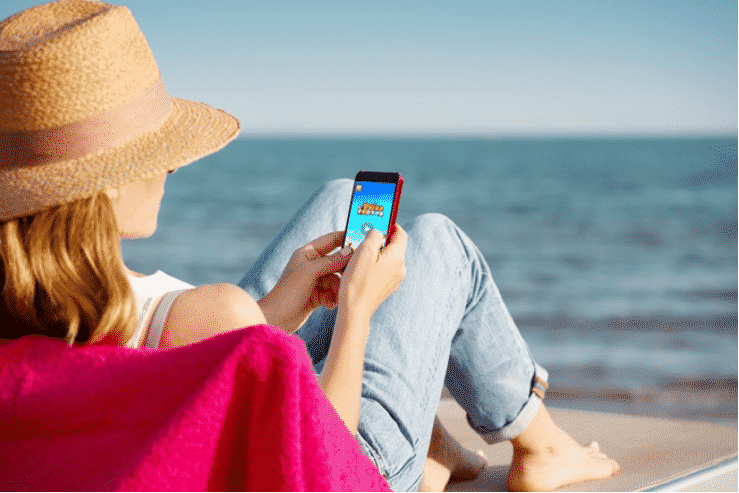 This is perhaps best shown by grabbing a few actual reviews for evidence. So here are several actual Prize Fiesta reviews to give you a flavour of what actual users think of the app: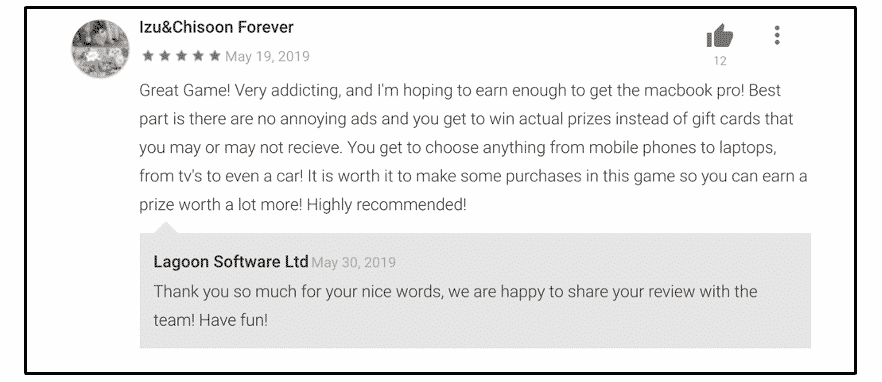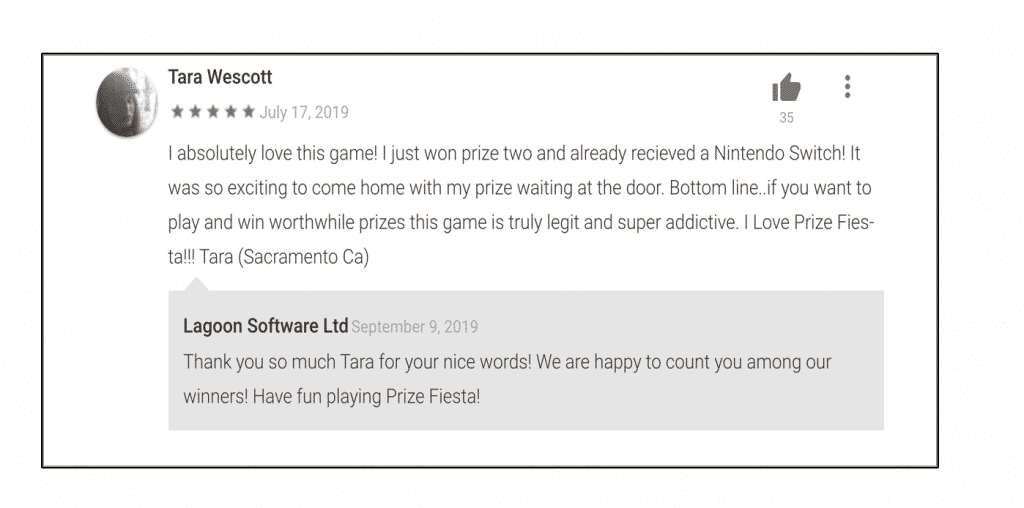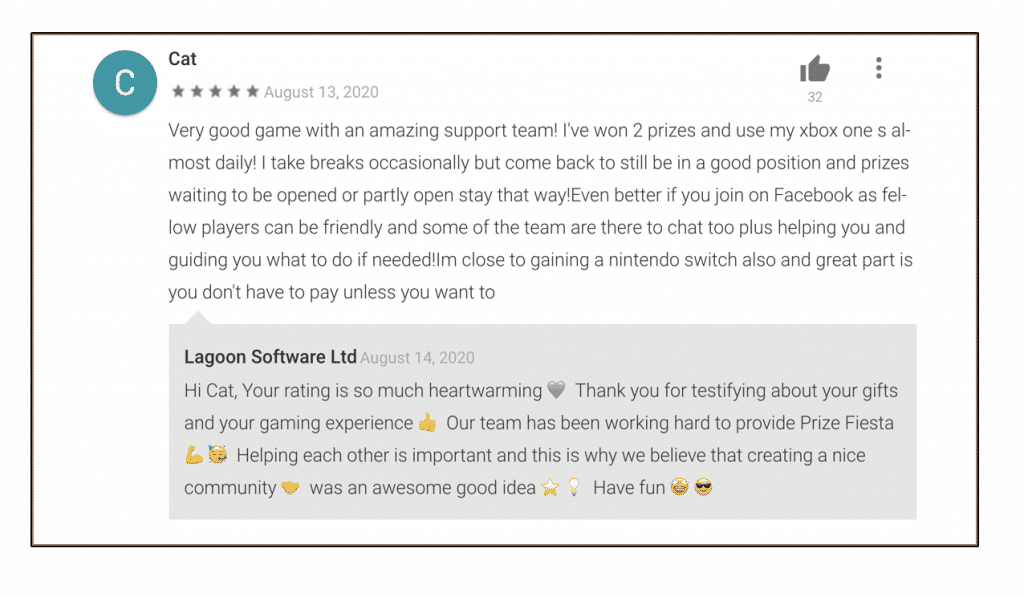 The Verdict:
SCORE: 9/10
Overall, we have to commend Prize Fiesta for shaking things up in the match-3 genre.
It has been quite stagnant for some time and with the introduction of this prize-winning incentive, they have really galvanised the match-3 landscape.
And judging by the Prize Fiesta reviews on the Apple Store, Google Play and various other publications, we would say that this is the general consensus.
So, our verdict is to download this game and give it a try, and when you win a prize, we want our cut!
Thanks for reading.