The summer months are ideal for hosting pool parties. You only have to plan a few activities, and you'll create a successful event. The sun does the rest for you.
Sunshine improves people's mood, it lightens any event, and it warms the body, creating a pleasant experience for your guests. But it doesn't hurt to think of adding the X-factor to your next get together. You may consider looking at pinball machines for sale or to rent. Or you might look for blow-up floaters and water polo goalposts. Here's your helpful cheat sheet.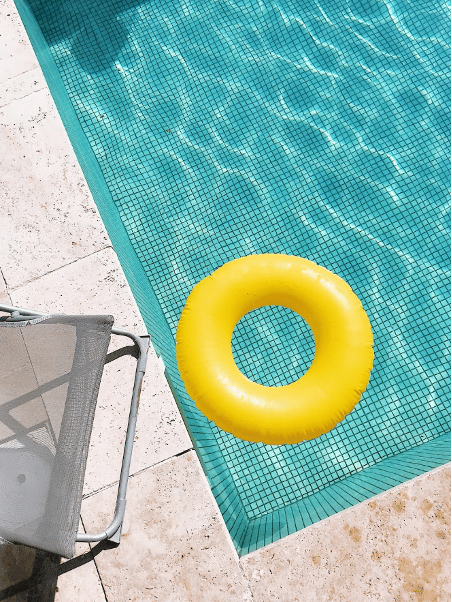 Safety
The first items on your list will be to prepare for safety. You'd be smart to plan for people to take turns being on pool watch for half hour sessions—yes, even with adults around. People can be silly around pools, and not take enough precautions. Someone can easily fall and bump their head. Of course, children should be watched even more closely than adults.
One of the first questions to ask guests is if they can swim. This must be done delicately, but it's essential that you know so that you can take action promptly if someone seems to be in trouble.
You also want to ensure that no item around the poolside would cause anyone to trip and fall into the pool or onto the edge of the pool.
Lawn
Make sure your lawn is comfortable for people to run on and play games. People don't only want to spend their time in the water, but will also wish to relax on some soft grass. Cut it neatly, but not right to the soil, so it's comfortable to walk on.
Drinks
Plan for a lot of drinks. Non-alcoholic drinks are the best focus for safety's sake, but if you do include alcoholic beverages, simply limit them. Include water and eco-friendly disposable cups and straws. You don't want to wash up stacks of dirty cups when everyone's gone.
You can add a retro bar fridge or a cooler box to keep the drinks cold, while also adding some funky aesthetics to the outside area.
Food
Ideally, you would hold a barbeque at the same time. This provides your guests with something to do along with pool activities.
Otherwise, organise finger snacks. Nobody wants to fiddle with knives and forks when running around a pool. Prepare something they can snatch on the way to the pool:
Sausages
Canapes
Crisps
Small salad dippers
Sausage rolls
Guests don't even have to hold a paper plate in their hands!
Umbrellas and Reclining Chairs
Make sure you have a lot of umbrellas scattered around, especially if you don't have trees. Keep a space for playing lawn games, but each guest ought to have access to a patch of shade. They may wish to lie in the shade on a reclining chair, or even sit in the sun. Give them lots of options to sit where they'll feel comfortable once the day gets hot.
Sunscreen and Extra Towels
At a pool party, you don't want to find your guests uncomfortable to go into the sun because they've forgotten some essential items. Place bottles of high-factor sunscreen around for anyone to use, so that your friends don't get bad sunburn.
Additionally, lay out extra towels so guests can use them to lie on or to dry off. They'll definitely thank you for the consideration that went into your planning.
Games
There are several games you can play at a pool party, and we've listed some of the best.
Ball Games
Almost any ball game can be converted to a pool game. Water polo, basketball, or volleyball can be adapted with careful use of a net or goalpost. People enjoy a bit of playful competition, and balls can either be the blow-up kind or any light ball that won't hurt people or grow soggy in the pool.
Cardboard Boat Race
Place cardboard boxes, scissors and tape on a table. People get to build their cardboard boat, and then compete with one another to see who can send their boat across the pool first.
Crocodile Hunter
Here you need blow-up crocodiles and hula hoops. Each person receives a hula hoop, and tries to snare one of the floating crocodiles with the hoop by throwing it at the crocodile from the side of the pool. Once they snare it, they should climb onto its back and race to the shallow end.
Duck Race
People in the water each obtain a rubber duck. They all stand at one end of the pool, and compete to see whose duck gets to the other end—without using their hands. They can blow, bump it with their foreheads or use their feet. What's more, they can splash to get others off course. This can be done with any age group and will be loads of fun.
Conclusion
Having a successful pool party takes a little planning and preparation, but if you follow our tips and suggestions above, you're off to a good start. Let's make the most of this summer!