Lead-in Part
Flowcharts come in handy when a team or an individual sets out to plan a process. By creating a detailed flowchart, it becomes easier for the team to analyze and evaluate every step effectively. Some of most benefits of creating a flowchart are:
It helps in building clarity about the overall process.
With a flowchart, one can easily identify specific steps.
The flowchart helps in outlining complex problems.
Flowcharting ensures that there is good communication among the team members.
Flowcharts help in identifying the flaws and errors in any given process.
When one creates a flowchart diagram using traditional methods, one tends to make mistakes that are not considered productive for long-term usage. In order to ensure the efficiency and effectiveness of the overall system, flowchart software, like EdrawMax, is highly recommended. Some of the benefits of using flowchart software over traditional methods are:
With flowchart software, one can easily modify the content of a process.
Flowchart software lets the team work on the diagram virtually.
Flowchart software lets you customize different processes, steps, and parameters.
It becomes easier to share the flowchart diagram with flowchart software.
What is EdrawMax
EdrawMax is a powerful diagramming tool equipped with a powerful canvas board that lets you make 280+ diagrams. By using this all-in-one diagramming software, you can create multiple flowcharts, network diagrams, science diagrams, architecture diagrams, software & development diagrams, and more. This free flowchart tool also offers a wide range of templates, symbols, customization & sharing options, layouts, structuring, and more, making it one of the highly recommended diagramming tools for students and professions.
Even if you have little expertise in diagramming, with EdrawMax and its user-generated templates, you can create, customize, and share any diagram you require. The tool is built on vectors, ensuring you do not have to worry about resizing or reshaping any size.
Key Features of EdrawMax
All-in-one Diagram Software: EdrawMax is one of the most downloaded diagramming tools in the market. The reason is that, unlike other tools that offer a limited feature to their registered users, this 2D diagramming software has many features that make it easy for students and beginners to work on any diagram. The tool has a user-friendly UI that resembles MS Word, making it easier for newbies to start working on complex diagrams. From using the free templates to creating your own symbols, this tool lets you perform all sorts of customization that you can find deemed necessary for any diagram.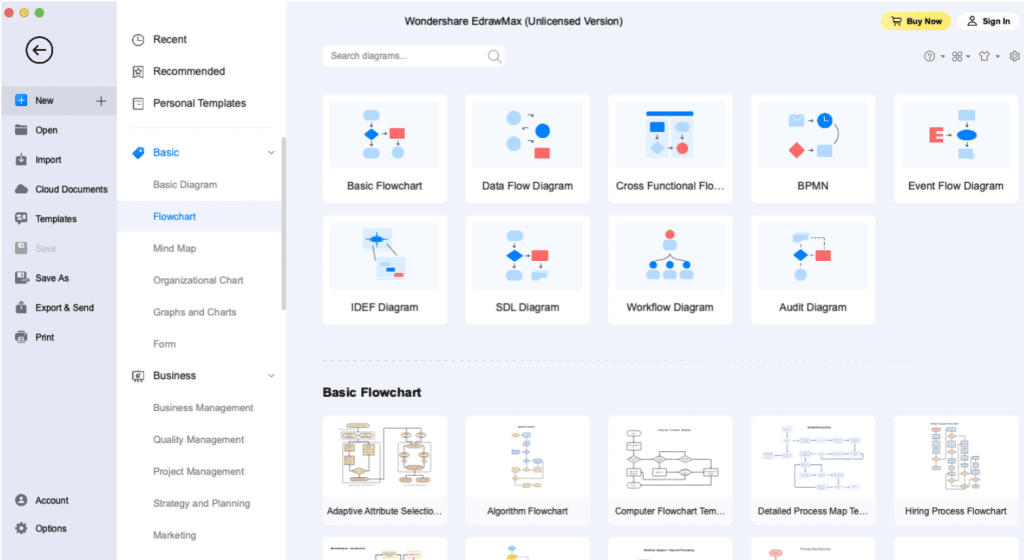 Enterprise-Scale Security: EdrawMax is trusted by over 25 million users and several multinational companies globally. Most companies create their respective templates and save them to the personal cloud without worrying about data breaches because of the enterprise-scale security that comes with this diagramming tool. If you export the file in ESDX format, be assured that your file is encrypted to the highest level of encryption currently available. Additionally, the personal cloud files are stored under the highest-grade SSL certification, ensuring that your files and data are stored safely.
Built-in Templates: One of the most useful features of EdrawMax is the built-in templates. The tool comes with 1400+ built-in templates that are designed by professionals to ease your efforts in creating hundreds of diagrams. You will find some highly effective and beautiful templates for diagrams, like Quality Management diagrams to Analysis Canvas diagrams, Marketing diagrams, Business Management diagrams, Database Modeling diagrams, etc. Additionally, the template community of this flowchart software comes with user-generated templates. As a registered user, you can instantly duplicate any of the templates you find in the community and customize it per your requirements.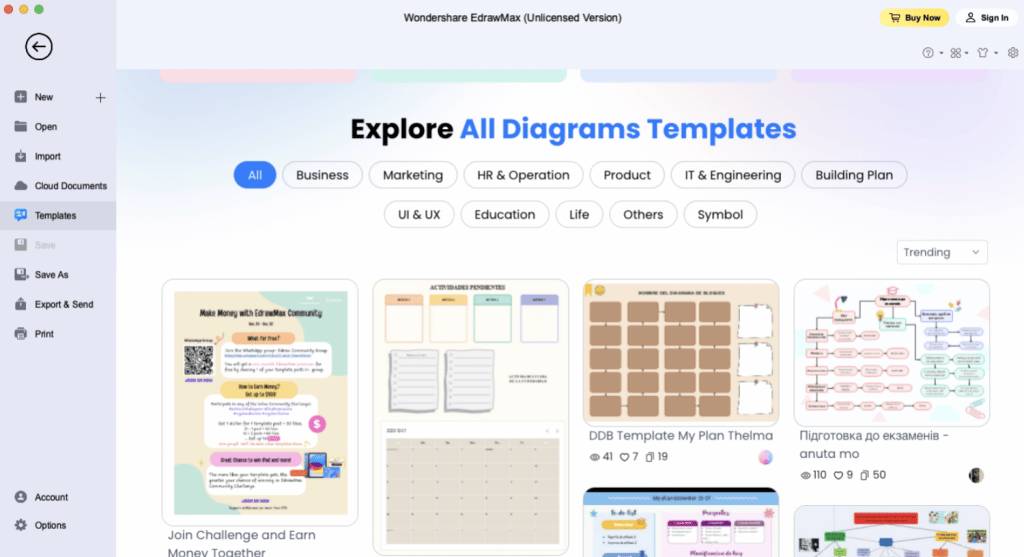 Online Collaboration: Gone are the days when you used an expensive third-party tool to get your team on board so you could have an online collaboration. With EdrawMax Online, you can easily collaborate with your virtual team. Head to the online version of this flowchart software and get your team on-boarded in real-time. This way, one can easily access remote collaboration, brainstorming sessions, virtual customization, and other important features. Another important feature of accessing the online version of this diagramming tool is to store and access the designs from the personal cloud.
Export Options: Unlike other diagramming tools that have limitations to diagram exporting and sharing, this free flowchart diagramming tool lets you export your diagram in multiple formats. Some of this tool's most common export formats are JPEG, PNG, GIF, SVG, and more. In addition, you can also export your flowchart in formats like PDF, VSDX, HTML, Docx, XLSX, PPTX, TIFF, PBM, PS, and EPS. With this flowchart tool, you also get a wide range of sharing options. From creating an embed file of your flowchart diagram to attaching the diagram to a mail or sharing it on Facebook, Pinterest, and Line, there is no limit to the export and sharing options. If you are looking for a tool that lets you import and export files in MS Visio, check out the paid version of this tool.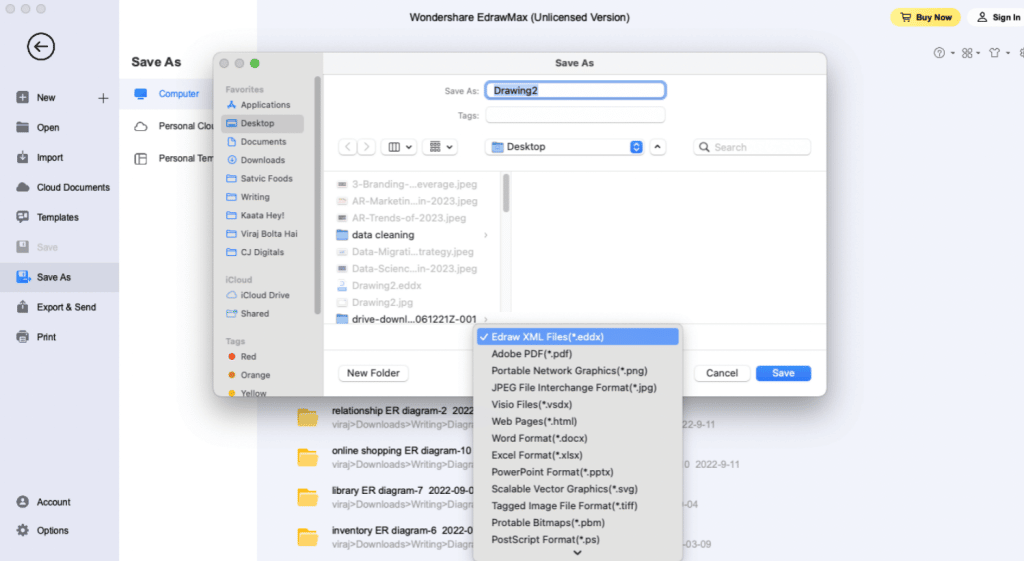 Free Flowchart Software
EdrawMax is a free flowchart software that offers several amazing features, like personal cloud, templates, symbols, customization options, online resources, and more. However, if you are looking to have some more advanced features, we highly recommend checking out the paid version of it. Unlike other tools where you have to pay yearly update fees, this free diagramming software comes with an affordable one-time fee that supports upgrades, priority support, and more. Some of the amazing features that you will get in the paid version are:
Easily import and export Visio files.
1GB personal cloud space. The lifetime plan also comes with 10 GB of cloud storage space.
Access to unlimited templates and diagrams.
Access to previous versions of any diagram that you created.
Screen capture to import the files directly from your Windows or macOS screen.
With the paid version, you can export the file to Graphics format without EdrawMax's branding or watermark.
Final Thoughts
Flowcharts are a great way to outline, map, and even understand the overall process. Creating a flowchart allows one to easily understand the gray areas that need rectification. Additionally, we thoroughly understand workflow management and regulatory & quality management requirements. Flowcharts often come in handy when someone is creating troubleshooting guides to analyze the overall process. With flowchart software like EdrawMax, it becomes very easy to create any type of flowchart. This free flowchart software also offers many features that make it easy to make different flowcharts, like Data Flow diagrams, BPMN diagrams, Workflow diagrams, SDL diagrams, and more. Choose EdrawMax is planning to create beautiful flowcharts that you can easily share with your peers.