Here we are, nearly halfway through the year, and gaming desks worthy of investigation are still cropping up all over the place. Let's cut right to the chase here and get into some gaming desks I've had the pleasure of reviewing over the last couple of months.
5. Autonomous – SmartDesk Corner ($1,199)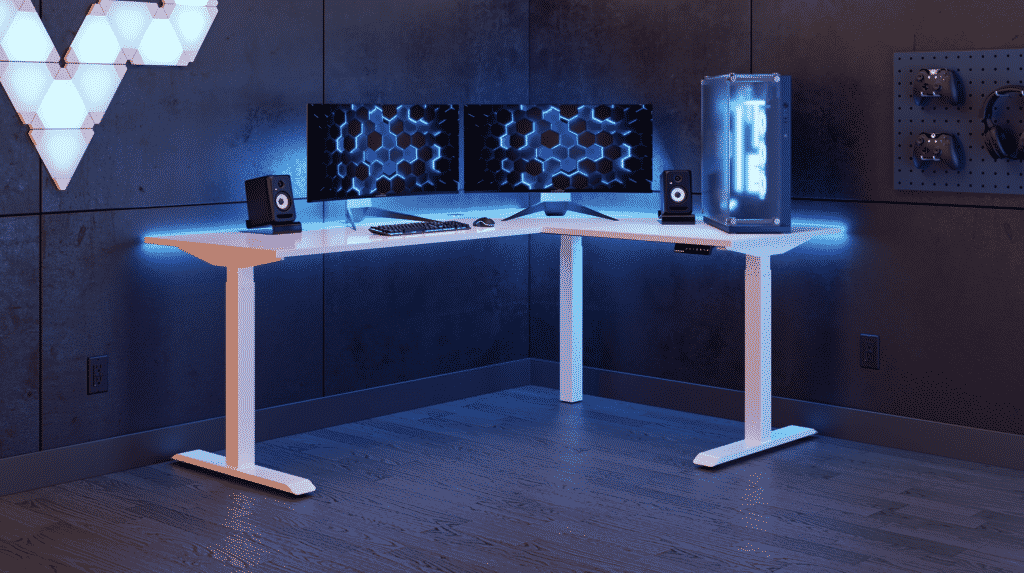 Measurements: 53"W x 29"H
Pros:
· Can choose from desktop color options
· Solid leg base (its only legitimately sturdy element)
· Lots of surface space provided, on top and underneath
Cons:
· The cost (!!!)
· A particle board material desktop structure doesn't suggest trustworthy durability, nor does it reflect the value implied by the price
· Scarce on other features/amenities
You've heard the name Autonomous before, and you may have seen their products while online window-shopping. The term "good deal," however, is not one that I would use to describe this or any of their gaming desks, typically speaking. At the end of the day, how much mileage you're going to get out of it is still going to be a gamble, because with gaming desks like this, there really are only two things to consider: the price and potential durability. When you start looking at all the gaming desk furniture and decor options available now, the thought must have crossed your mind: Is this gaming desk worth the splurge? If you've got money to spend, sure, but there are options out there that surpass the SmartDesk Corner in quality—and at a third of its listing price, no less. Ouch.
4. Seven Warrior – L Shape Gaming Desk w/ LED Strip ($194.99)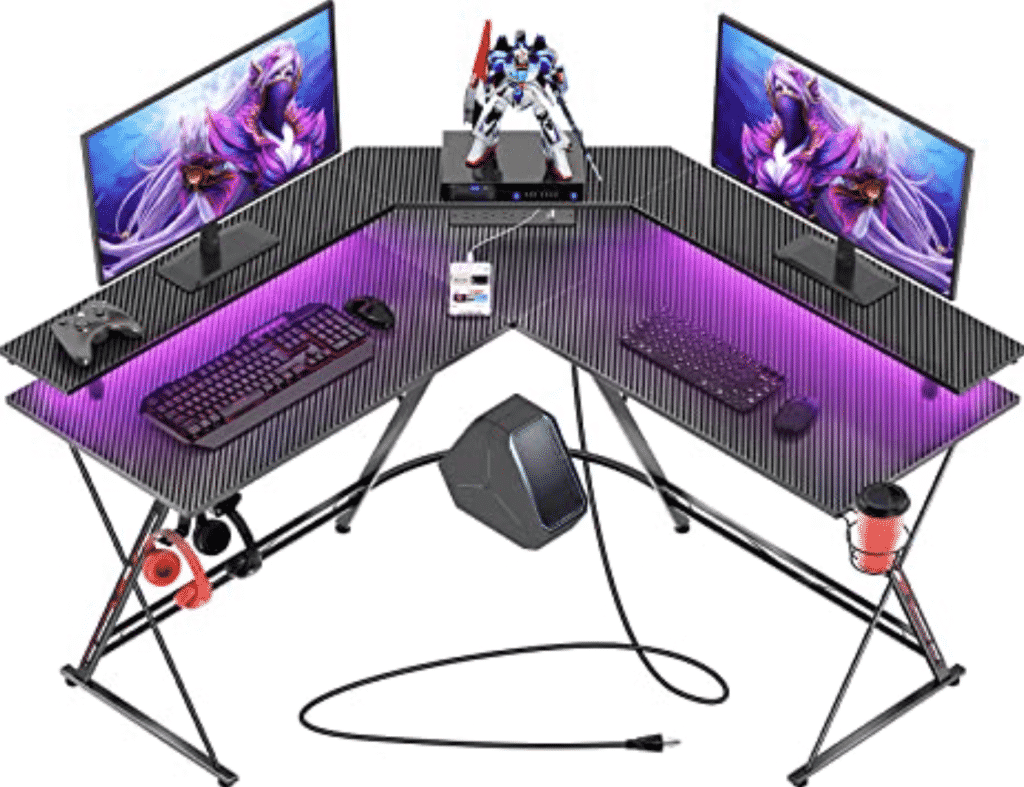 Measurements: 50.4"W x 18.9"D x 29.6"H
Pros:
· Very affordable given what's provided
· The lights and lighting modes are a nice (if uneven) feature
· Convenient L Shaped design should fit many corner settings
Cons:
· Not a lot of depth, so the surface is shallower than other gaming desks
· Its engineered wood does not exactly scream "quality"
· Inconsistent software/app performance
· Hard to track down all the materials it's made from (almost like they're being elusive)
· Cheap price sort of incriminates this gaming desk, especially when taking the other cons into account
The Warrior L Shaped Corner Desk is a promising gaming desk with a cool design and colorful lighting, though it is unrefined and certainly not perfect. The desk's surface is made of engineered wood that appears sturdy, but it makes the desk more difficult to move around and adds significant weight. The desk possesses good legroom and a large work surface, which will be great for gamers who are looking to work from more than just one area of the desk. Additionally, the lighting is customizable, making it fun to use for a variety of situations. That said, the hardware, software, and app have glitches when switching operating systems, and it does not appear that these issues will be easily resolved anytime soon. Furthermore, there are only two USB ports on the top of the desk for computers. In the end, this is a decent gaming desk that will be difficult for Seven Warrior to top without upping their manufacturing game.
3. Arozzi Arena Gaming Desk ($399.99)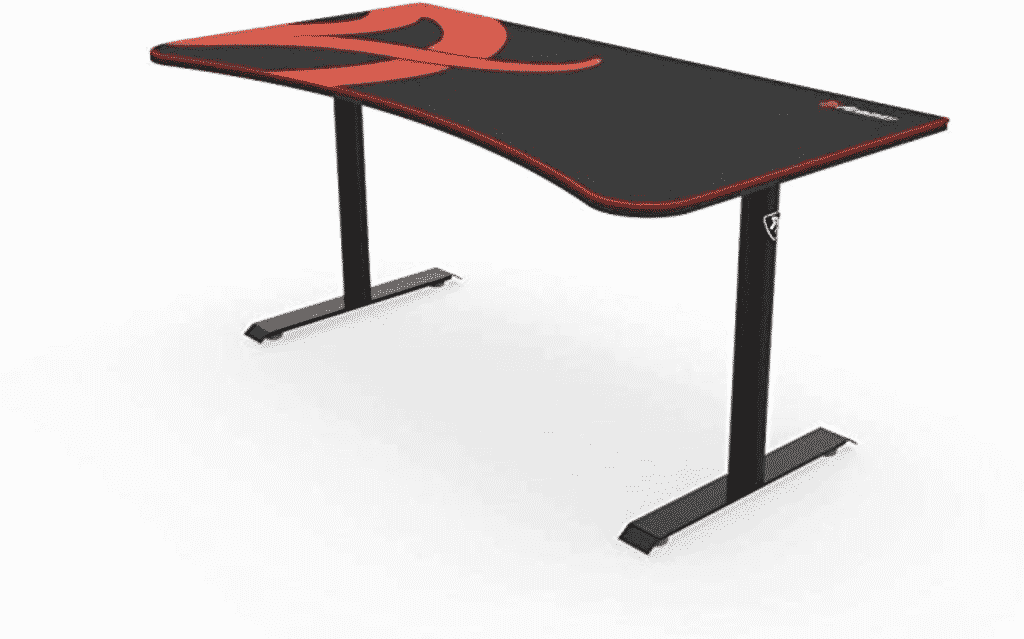 Measurements: 63"W, 32"D, 29"H
Pros:
· Available in multiple colors (but this only affects the legs and side-paneling)
· Comes with full-surface water-resistant microfiber desk mat
· Monitor attachment can support up to three large-sized monitors
Cons:
· Despite appropriate amount of tightening during assembly, there is still an unmistakable wobble to the structure, which can be annoying, to say the least.
· All its top parts are thin and fragile, making them susceptible to breakage (if not immediately then definitely down the road)
· Microfiber desk mat cheaply made—occasional color bleeds give it sloppy look
In the middle of the pack we have the Arozzi Arena Gaming Desk. It's a desk that frequently appears in top lists, so it deserves some notice. Its three attachable top components make it easy to assemble and disassemble, as well as pack and move—however, as I covered in the cons, these are prone to breaking before their time. A strong metal base does make up for that, to an extent. The fact that potential buyers have five colors to choose from at first seems appealing, until you realize that the colors only apply to the base (disappointing). It comes with a full-surface microfiber mousepad, which might be the best engineered aspect of the Arozzi Arena Gaming Desk, were it not for reports of color bleeds and uneven stitching at the edges (the latter of which I did experience).
2. FlexiSpot Height Adjustable Gaming Desk ($349.99)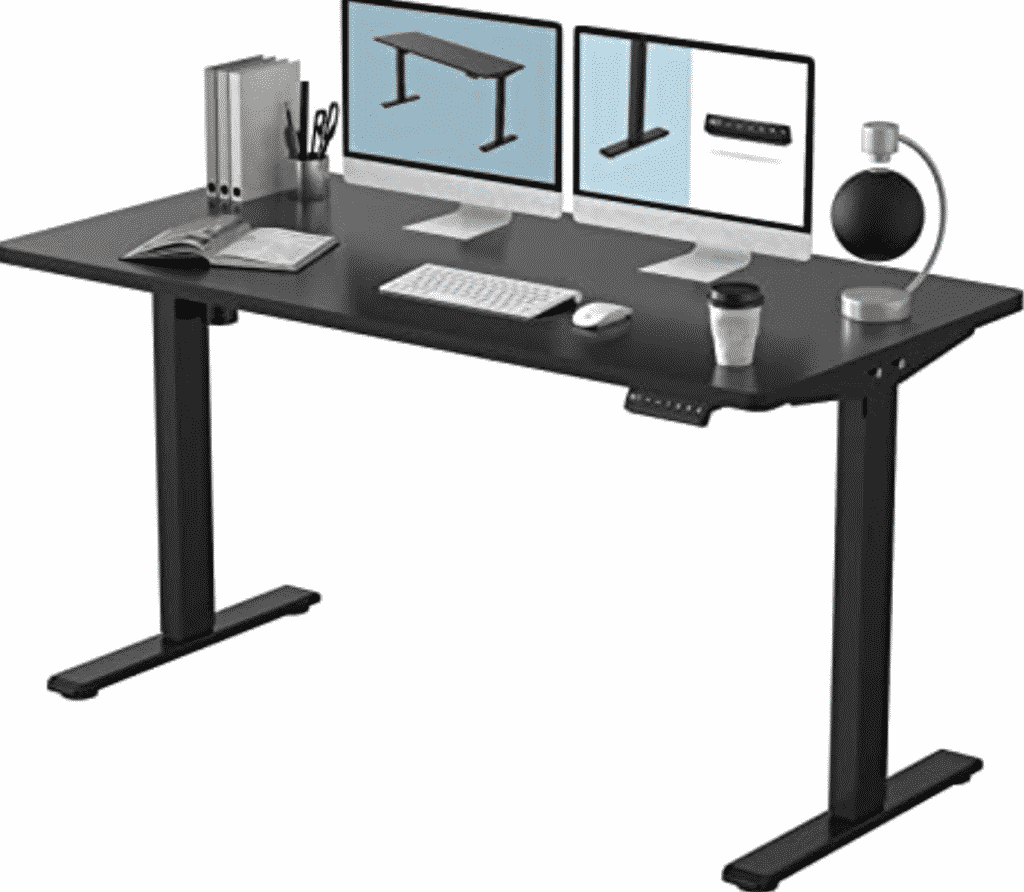 Measurements: 55"W, 28"D, 28"-48"H
Pros:
· Available in multiple sizes and colors
· Ergonomic height adjustability system
· LED memory control panel lets you set up to 7 programmable height memory presets
· Sturdy build can hold up to 154lbs
Cons:
· Motor known to break down over time so that the desktop is no longer flush—not good
· Instruction manual hard to decipher, leading to an assembly time that's slower than you are led to expect
· Customers have had trouble getting help from company when shipments are wrong—which seems to be a common enough occurrence (I got mine in two separate shipments separated by two days)
Here we have our only standing desk on the list—I got the chance to review a few others, but this one from FlexiSpot seemed the only one worth mentioning. This gaming desk is of a solid build, made from alloy steel. It seems to check off all the boxes, and then some, what with the height adjustability and wealth of available colors to choose from (and they've got some cool ones too, including some wood finishes for the less gamer-y gaming desk look). Overall, this gaming desk from FlexiSpot deserves recognition but does not come without its own baggage.
1. Eureka Ergonomic – GTG L60 60" L Shape Gaming Desk ($269.99)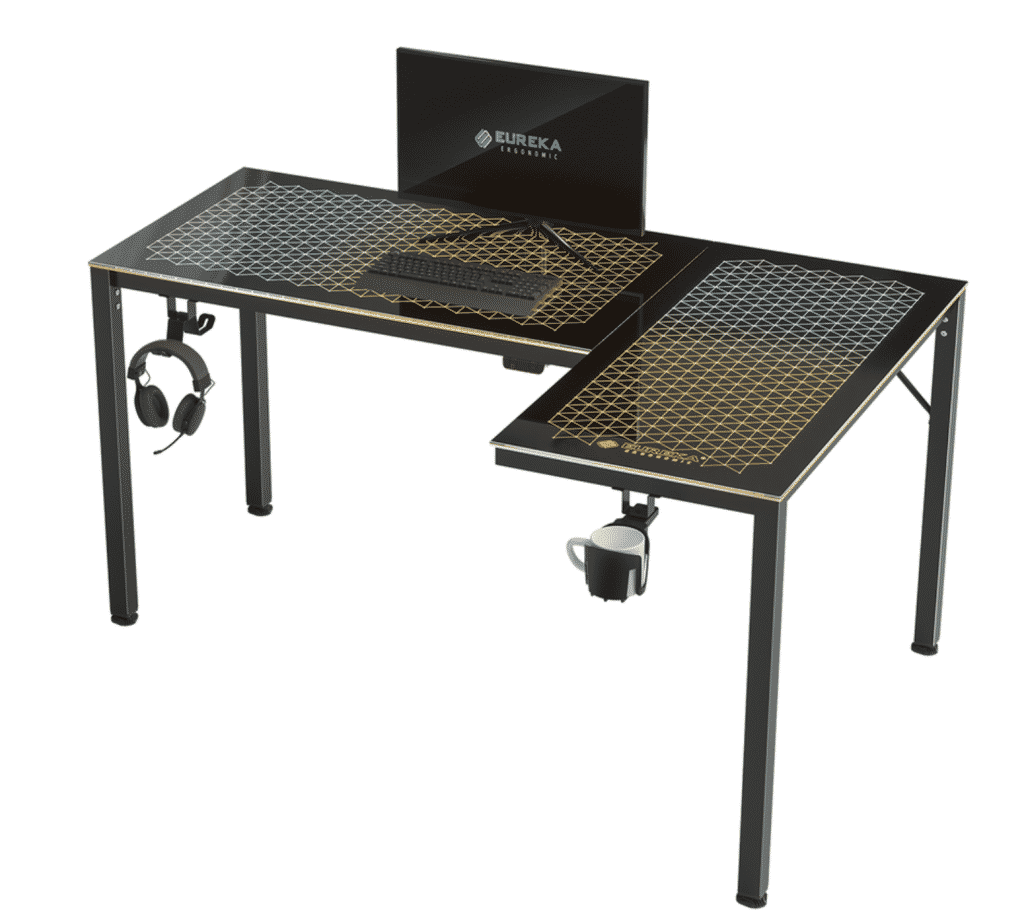 Measurements: 60"W, 24-40"D, 30"H
Pros:
· The materials are top notch—sleek and refined yet tough as nails. Strong tempered glass, carbon steel legs, the best of the best
· Comes with tons of options for customization—ergonomic, rotatable, RGB settings, etc.
· Features a reversible L shape to adapt to any corner setup
· Strong desktop + strong base = SUPER strong (can hold up to 330lbs)
· Has lots of sweet lightshow capabilities that I haven't seen from other producers of RGB gaming desks
Cons:
· The instruction manual is a little hard to understand at times but easy enough to get through
· Under certain lighting, the RGB may not appear to emit as brightly as normal (but that's more an environmental effect than a product deficiency)
I sweated profusely, tirelessly assembling and unpacking all the gaming desks I got in for review till, finally, I got to this one (the lights excited me, what can I say, so I saved it for last). And, after reviewing everything, indeed one gaming desk towered over the rest. This is the Eureka Ergonomic GTG L60" L Shape Gaming Desk. Its RGB system is not just rife with color, but it is a technological masterpiece, one which I have never seen in any other desk that I have reviewed. It offers a user-friendly menu of colors, effects, and patterns—all supplied for an unmatched gamer experience. From one panel to the other, this gaming desk reveals that it knows what gamers want—they want epic-ness and bizazz, but they also want security in the quality of the product. I am super happy to report that every facet of the GTG exceeds expectations and will surely meet these essential gamer needs. After all, it was made for gamers. From top to bottom, left to right, whichever way to whichever other way—this is the desk that gives you the best quality at the best price, absolutely crushing its competitors. https://eurekaergonomic.com/gaming-desk-gtg-l60-60-spectrum-rgb-reversible-l-shape-glass/