The summer comes, temperatures rise, and before you know it, heat makes life unbearable. All the more so while you try to get a good sleep– be it the night snooze or the afternoon siesta – because that's when the body and mind seek to relax and recover. If the bedroom is not cool enough, sleeping patterns can go awry and that again affects the waking and working hours.
Air conditioning is a useful way of cooling the bedroom but two things make it unattractive – the high power consumption and the greenhouse gas emissions. The first cuts a hole in your pocket and the second cuts a hole in the ozone layer of the atmosphere. You surely don't wish to waste money or increase your carbon footprint, do you?
So, it makes sense to know some ways to keep the bedroom cooler without having to crank up the AC temperature control button.
From welcoming some houseplants to choosing the right custom curtains, we bring you some tried and tested tips and tricks to keep your bedroom cool no matter how hot the outside gets. Let's begin.
Keep doors and windows shut between 10 am and 5 pm
Keep your home's doors and windows shut during the peak hot hours of the day. This stops hot winds outside from barging in and blowing away the cooler air from inside. Open windows and balcony doors only in the mornings and evenings. This will keep the space nicely ventilated, and bring in cooler air too.
If any rooms in the house are not being used, just shut their doors. This will keep the cold air circulating only in the ones that are in use.
Seal the gaps and cracks
Those tiny little spaces around the door and the windows expel cold air and push in hot air from outside. Seal all these gaps and cracks with caulk or weather sealing tape and your bedroom will retain its coolness longer.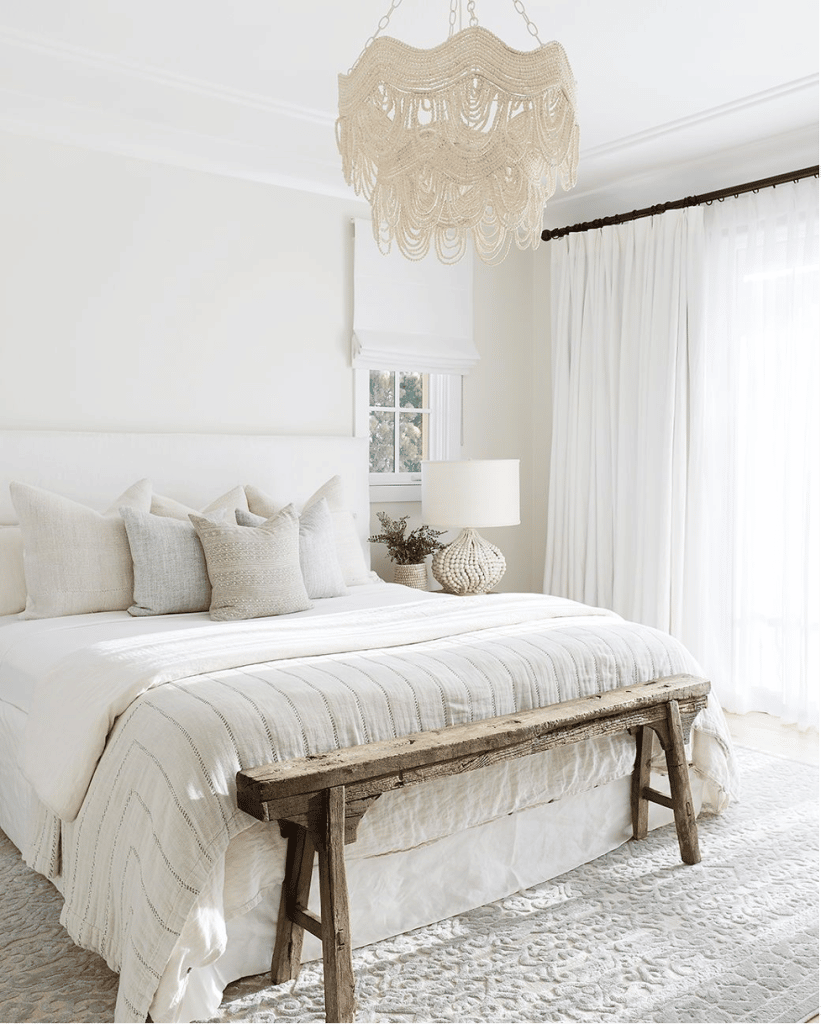 Choose the right window treatments
If your bedroom windows face south or west, install awnings outside to add shade. On the inside, hang blackout drapes or curtains with thermal liners. Blackout drapes and thermal liners stop the penetration of sunlight into the room and also don't let the cooler air of the room get hot. Put up tinted or reflective screens on window panes to check heat-bearing sunrays' entry into the room. You can also install bamboo shades or jute screens to ensure your windows don't feel like hot furnaces. One money-saving cooling trick is to hang a wet sheet in front of the window. As the water evaporates and the sheet dries, the room temperature too comes down.
Remove thick, shaggy carpets
Carpets, woolen or synthetic, are for cooler weather. In summer, store them away. Cover the floor with thin rugs instead. There's a wide range of summer-friendly rugs available in cotton, hemp, jute, bamboo, or grass. Choose the one that works for your bedroom.
Switch off the electricals when not in use
Every electrical gadget gives off heat when plugged in. Ensure that nothing stays plugged in when not in use – television, laptop, projector, speakers, even your cellphone. Also, remove any incandescent light bulbs as these generate a lot of heat. Replace these with LEDs or CFLs. Like other electricals, switch off the lights when not required.
Use pure cotton or linen fabrics.
Cotton is an all-season fabric. Breathable and moisture-absorbent, it is perfect for summertime. Store away the silks and the synthetics. Use pure cotton custom roman shades or sheer curtains that can allow the sunlight in while also keeping the room breezy.
You can also swap the fabric of your bedsheets, pillowcases and topsheets. In many hot countries, the topsheets are sprinkled with water before slipping into the bed as these feel cool against the skin. As the water evaporates, the body underneath too feels cooler.
Use ice to feel cool and nice
If you would rather not use an air conditioner, keep a wide and shallow bowl filled with ice cubes in front of a pedestal or table fan in your bedroom. As the air blow over and around the ice cubes, it will have a cooling and misting effect.
Bring in houseplants
Ever wonder why tree shades are so cool? Plants generate not just oxygen but also water vapor that brings down the temperature of surrounding areas. Keep some nice indoor plants in your bedroom. If your bedroom has a balcony, place some tall potted plants in it. Install a trellis and let a creeper or vine spread over it. These plants will act as natural sunshades to screen the windows and cool the place.
If your bedroom's roof is a vacant terrace, keep potted plants on it. You can also paint the roof in reflective white paint or tile it with white tiles to reflect heat. A cooler roof above will mean a cooler bedroom underneath. If possible, plant shady trees towards the east and the west of the house for natural cooling.
Keep the bedroom palette neutral and soothing
Strong colors like black, red, and orange absorb light and make the space feel warmer. In contrast, white and light colors like pale grey, pale blue, beige, and ivory reflect light and give an airy feel to the space. Walls, ceiling, or bed linen, choose light colors and it will be a cooling touch for sure for your bedroom.
Some other tips
Keep the bedroom decluttered for a clean and airy feeling. Use air conditioners with high energy star rating to save electricity. Try setting the temperature a degree or two higher than your usual preference for further saving. Take a cool shower before bedtime. Wear loose cotton nightclothes and get that peaceful night sleep during the summer months.
Try out as many of these tips and tricks as you can to enjoy a cooler bedroom.