People have been fascinated by taking and collecting photos since the invention of photography. You stored the photos in books or shoeboxes until a few decades ago. They were tangible objects that, if destroyed, would be lost forever.
Most photos are now shot digitally and kept on electronic devices like computers. It lets you keep thousands of images on your computer's hard drive. One disadvantage of this convenience is the ease with which images on these devices can be lost.
While doing other things, it's easy to remove images accidentally. You may have mistakenly deleted some of your priceless images due to system changes. You will almost certainly need to recover deleted images from your computer by using the common way or free data recovery software such as Wondershare Recoverit.
There is good news; you might be able to recover your images, regardless of how you deleted them from your computer. Your Photo's digital footprints will still be there, and you may recover them. And here's how to get them back:
Common Ways to Recover Deleted Photos:
You may use image recovery software to recover permanently deleted photos from your system in a simple and powerful approach. Fortunately, you can now quickly recover permanently deleted photos from your pc using various data recovery software. Recoverit Photo free file recovery software is the most dependable and efficient data recovery software for photos.
You have a few choices if you realize that any of your images are missing on your Windows PC. Let's find out how you can recover lost or deleted photos on a Windows computer.
Recover Images from the Recycle Bin:
Your Recycle Bin is the first place to search for any deleted photos. It is the location where the Windows operating system saves files that have been designated for deletion. These files are still on your computer and can be recovered with ease.
If you have a Mac and you have accidentally deleted photos, there are a few things you may do to try to recover them. Here is the most effective strategy for restoring your photos.
Recovering Photos from Trash Bin:
If you haven't cleared the Trash, recently deleted images may still be there.
Open Trash Bin, click on the icon, and search for your files.
You may utilize the "Put Back" option to return them to their original location if they are present.
Use the Backup Feature:
If you back up your computer regularly, you might be able to retrieve your lost images from one of your backups. Search files that you want to recover in the Backup and Restore application. The Restore Wizard will guide you through the necessary steps if your files are recoverable.
How to Recover Permanently Deleted Photos with Recoverit?
You may recover permanently deleted pictures without previous professional knowledge because they are effortless to use. First, download Wondershare Recoverit Image Recovery and then follow the on-screen instructions to recover photo.
Choose a location:
Run Recoverit Photo Recovery to begin the procedure. After that, you must select a hard disk drive from which you removed your photographs. To begin the scanning process, click the "Start" button.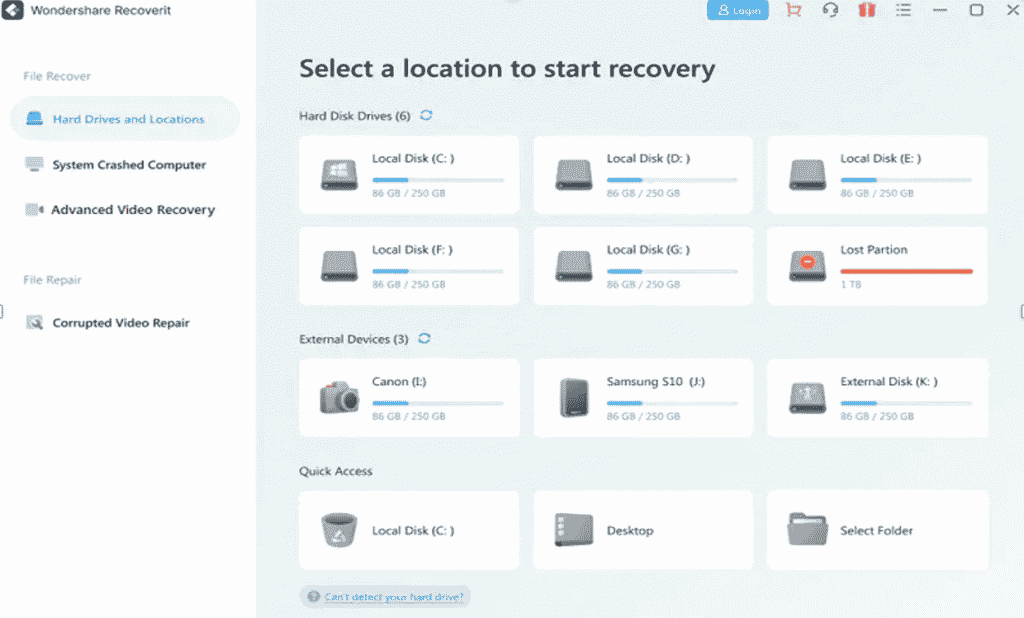 Check the hard drive:
The tool will now do a comprehensive scan of your selected hard disk to find deleted photos. You might see a preview of the photos as they are being scanned.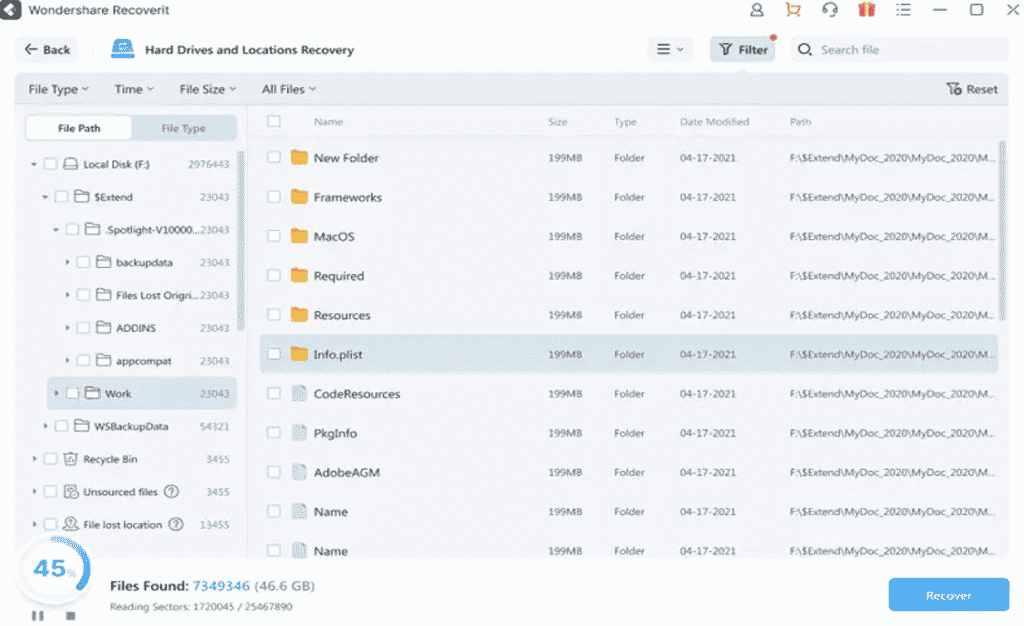 Recover photographs that have been deleted permanently:
You may see all the recovered photos and select the ones you want to recover. Finally, press the "Recover" button to reclaim your photographs.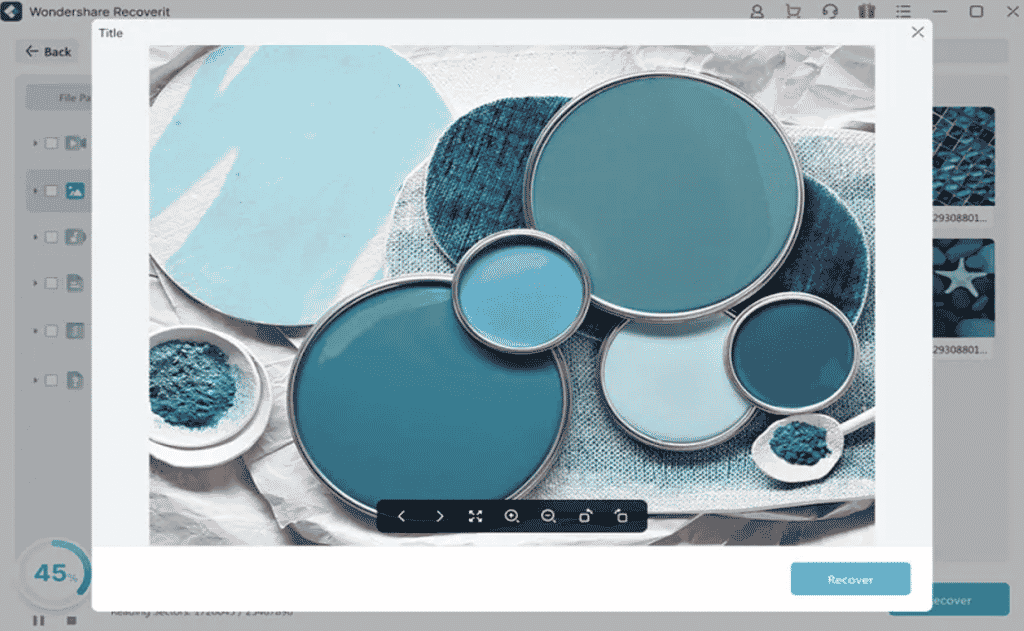 Why choose Recoverit to recover Photo?
Recoverit free data recovery software is recommended because it thoroughly scans internal and external storage devices for deleted photos. For its revolutionary data recovery technology, Recoverit photo recovery tool was awarded 35 patents. You will get the most satisfactory recuperation experience you've ever had.
Recoverit's features:
A few of Recoverit's features are:
Recovery of data from a variety of media file formats, including images, movies, and audios;
Recovers data from empty Trash, accidental deletion, disk formatting, virus attack, system crash, bootable difficulties, and other data loss situations;
Recovers data from hard drives, SSDs, external disks, SD cards, mobile phones, and other storage devices that have crashed or become unbootable.
Cons:
There aren't many negatives to the Wondershare Recoverit Photo Recovery tool, but there are some limitations:
. The remaining time indicator does not display the correct time.
Not all file types are supported by this data recovery tool's preview functionality.
Ways to Avoid Pictures Being Permanently Deleted:
We take so many photos that we forget how important it is to back them up. Here are some helpful tips to avoid Pictures Being permanently deleted and backing up your photos.
Make a copy on your computer:
You can store a duplicate of your key images on your computer with adequate storage space. This approach does have certain drawbacks.
Keep a backup in a separate location:
An external storage device is another choice for storing your images. You can save your data on a hard disk drive (HDD) or a solid-state drive (SSD).
Make use of a cloud-based storage service:
Cloud storage provides you with a virtual storage option that is versatile, dependable, and handy. Google Photos and Apple iCloud are the most popular.
Final Words
So this is all from us if you seek how to recover permanently deleted photos. Users prefer to utilize Recoverit Photo Recovery to complete this task.
With Wondershare Recoverit photo recovery program, you may quickly and rapidly recover permanently deleted photos. It is a safe and secure photo recovery tool that you may install on your computer.