The web is becoming a more integral part of our routine lives each passing year. We use the web for everything, including shopping, banking, weather forecasts, news reading, booking tickets, etc. The demand for web application development services is growing immensely as the pandemic has forced more of our lives online. This also has increased the scope of magic developers can do.
If you're just entering the universe of the web and have some basic knowledge about what web developer performs as part of their day-to-day work, this can be a great opportunity to get the inside scoop on what's picking up steam right now.
As the year comes to a close, I can't help but wonder what the coming year will hold for tech enthusiasts like us. Will the web continue to meld itself into more aspects of our daily lives, bringing more confusing jargon that we must pretend to grasp fully? Will the requirement for creating web apps rise more significantly?
I know so many questions are coming to your mind right now.
So, here's my list of the hottest web development trends that I believe will change the tech environment in the near future and that are also easier to understand and integrate. Let's have a look at them one by one.
1. More Attention on Progressive Web Apps (PWAs)
Progressive web apps are not new, but their most recent version may eventually replace web apps for good reasons. PWAs accelerate the webpage loading and allows offline functionality in apps like Google Drive. These apps are used by giant conglomerates like Uber, Twitter, Starbucks, and Pinterest to improve the user experience. On a brighter note, in 2023, many more businesses will follow suit.
Why should you give progressive web apps importance?
According to Statista's research, global retail eCommerce sales are expected to reach USD 8.1 trillion by 2026. It means that individuals will use their web and mobile apps more frequently to meet various purposes.
PWA development is not rocket science, even though this technology is still relatively latest in the market. At the same time, progressive web apps enable organizations to maintain an upper hand in the changing market scenario.
2. The Era of Artificial Intelligence Chatbots
AI can learn, collect data, and resolve challenging problems. Nowadays, top-notch web applications are also integrated with features and functionalities based on artificial intelligence. It is also one of the most important technologies that will affect how companies offering web application development services will operate in the future.
A Forbes article suggests that by 2030, the AI sector will contribute an additional USD 15.7 trillion to the global economy. Wow! But how?
To better serve users' demands, AI chat will advance a great deal in 2023. For these demands to be fulfilled, AI will rely on its chatbots. In order to match user behavior with bots, information retrieval, machine learning, and natural language processing techniques will be used.
AI-enabled chatbots help businesses perform tasks using text chats or voice more quickly while enhancing the consumer experience. It can further gather information, respond to frequent inquiries, and resolve other issues.
3. Rising Popularity of Augmented Reality (WebAR)
Augmented reality (AR) will be the next major trend in web development in 2023. You've probably heard about this buzzword if you're a game enthusiast like me. Apart from gaming, this technology is utilized in mobile devices, healthcare, and education. According to a Statista report, the global market for augmented reality (AR), virtual reality (VR), and mixed reality (MR) is expected to rise by around USD 250 billion by 2028.
Ecommerce website operators may find it challenging, yet they embrace AR technology to improve UX. Several well-known eCommerce companies use augmented reality, including Sephora, MOSCOT, Amazon, and IKEA.
For instance, Amazon applied AR technology that enables customers to try on the lipstick shade and see whether it suits them. Very helpful, isn't it?
4. Evolvement of JavaScript Frameworks
If you belong to the technical world, you definitely know the best backend frameworks and frontend frameworks. But today, I'll talk about the most popular and loved frontend framework – JavaScript. It is a fact that JavaScript is the most adored and widely used language for software development. Its importance is being upgraded and enhanced by the market's contemporary trends and changing dynamics. Here is the real-time Statista report of how popular JavaScript is.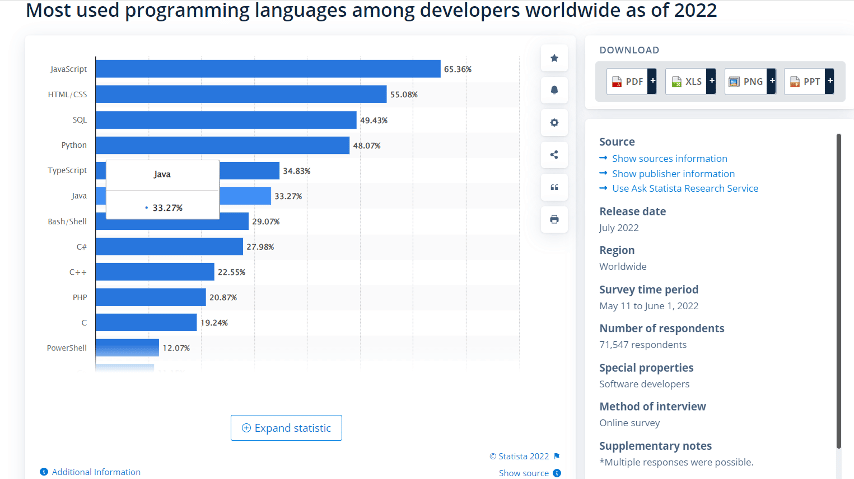 Frameworks are the programming libraries for JavaScript. They already have pre-built code or programs that can be used for standard programming. In building web applications, JavaScript serves as the bedrock.
Are you wondering why JavaScript frameworks are this popular? The answer is short and sweet. These frameworks provide developers with an ideal environment that makes their work much easier. Therefore, the top-notch frontend frameworks to keep an eye on in 2023 include, Vue.js, TezJS, Gatsby.js, and Next.js.
5. The Trend of Serverless Architecture
The mandatory work-from-home policy was implemented in 2020 and 2021 due to the lockdowns during the COVID-19 pandemic. Some companies followed this policy in 2022 as well. According to experts, this tendency will still be prevalent in 2023. For this reason, the prominence of SaaS clou solutions has recently increased. Moreover, the custom web application development company providing top-rated web application development services is also expanding and witnessing a boost in demand for serverless design.
In order to be at a competitive edge in quickly changing market dynamics, companies need to have a sound cloud computing strategy, according to Flexera's State of the Cloud Report. This study aims to demonstrate that serverless architecture is among the major emerging trends in web development.
Moreover, serverless computing is a fascinating web technology that offers various advantages to users.
Following Web Development Trends
Web development is continually evolving to meet the expectations and demands of online users. Many of these trends focus on enhancing the user experience on mobile or web apps. Others in the future might be concentrated on boosting the user experience for smart wearables or other as-yet-released devices. You can ensure your website constantly draws in and delights users by keeping up with the web development trends.
But what about the implementation? How you'll implement these web development trends?
Umm, there's a very cut-to-cut answer.
To help you follow these web development trends and assist you with seamless web application development services, you can look for a reputed custom application development company. You can also consider hiring expert web developers in their respective domains. 
That's all I want to say about the web development trends that'll spark a fire in 2023.
Thank you for your time and patience.
Happy New Year!
Happy Learning!