When news of the moving and visually compelling documentary 'A War Hero 3.0' was completed, it was impossible not to be curious. A passion project drawing together the brilliant minds of movie star-turned-director Enzo Zelocchi and writer-director TJ Mancini was sure to result in something unique.
This breathtaking documentary is set for great success. The mid-20th century story of Mancini's own family member, Charlie, in the Korean War, a fresh reason has now arrived to get excited: Zelocchi and Mancini have recently completed the project, bringing together stunning footage and music, and we've got all the production details that you might desire to further whet your appetite.
Key Production Details for the Documentary Feature 'A War Hero 3.0'
The documentary filmmaking world is often a specialist field, so it certainly piques curiosity when two of Hollywood's most talented moviemakers decide to step out of their usual territory and tackle a project that focuses on real-world events.
As such, 'A War Hero 3.0' indulges its viewers in the kind of epic storytelling and aesthetic mastery that you'd expect from two creatives used to working on big-budget blockbusters, adding an extra dynamic to the narrative. Here are the key production details that you need to know:
1. 'A War Hero 3.0' Production status: Completed (year 2023)
2. Country: USA
3. Language: English
4. Genre: Documentary
5. Estimated Budget: $250,000
6. Production Company: Crossroads Entertainment
7. Main Cast: Charlie Mancini (himself), Yolanda Mancini (herself), TJ Mancini (himself), Joe Cortese (himself), F. Valentino Morales (himself), Holly Bonelli (herself).
8. Writer of 'A War Hero': TJ Mancini
9. Producers: Enzo Zelocchi and TJ Mancini
10. Executive Producer: Vin Diesel
11. Color Info: Color and Black and White
12. Editor: Atsuko Atake
13. Colorist: Michele Ballarini
14. Director: Enzo Zelocchi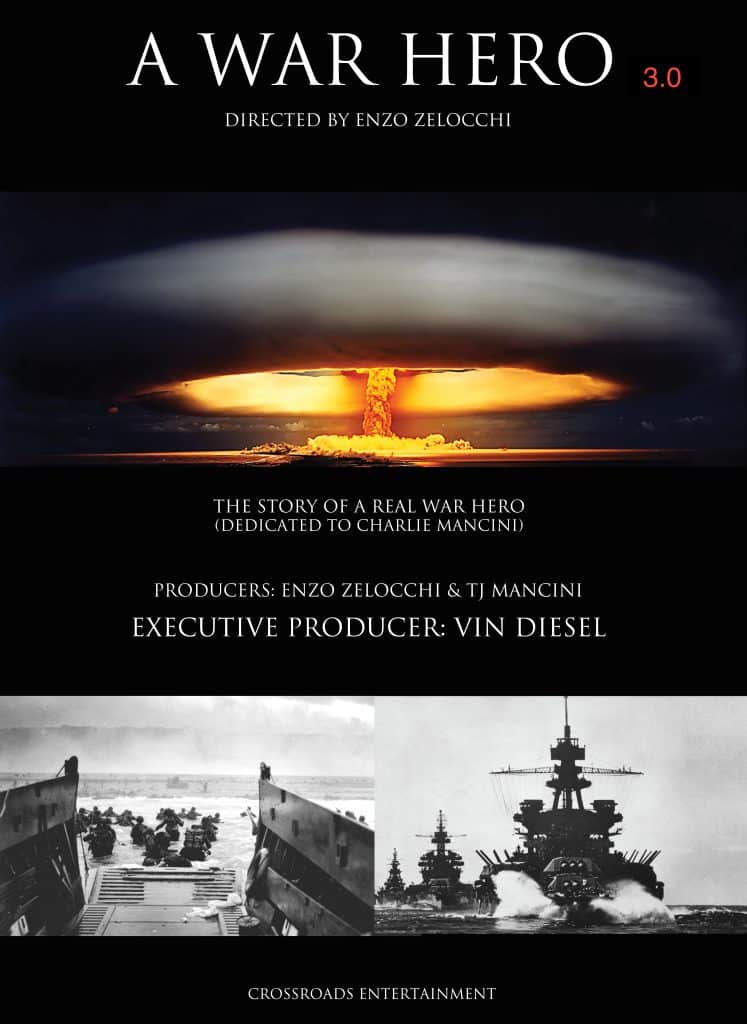 Clearly, collaboration on this project established an unbreakable bond between Zelocchi and Mancini. Before this new documentary was shot, the two joined forces back in the Hollywood sphere for the films 'Angels Apocalypse' and 'Unbreakable Souls'.
More recently, not only did they decide to reunite for the new production of 'A War Hero 3.0', but they also announced that Mancini will serve as producer for two of Zelocchi's most hotly anticipated upcoming projects, the self-penned and directed action movies 'The Source' and 'Starlight Man: The First Secret'.
The new 'A War Hero 3.0' is a Documentary Feature Not to be Missed
Carrying us back to the 1950s when the Northern Korean People's Army invaded South Korea, 'A War Hero 3.0' follows the story of Charlie Mancini, who deployed among American soldiers intent on stemming the rise of communist forces and protecting democracy around the globe.
This was the first conflict fought with modern military might and one that would rock the world with its intensity and political reach. But perhaps most poignantly, Charlie's story is one of human strength, compassion, and endurance—facets that we can all relate to, no matter our personal experiences of the perils of war.
Realizing this incredible project, Zelocchi and Mancini's vision was further contributed to by the skills of actor turned-executive producer Vin Diesel, who is a close friend of Mancini, editor Atsuko Atake, and colorist Michele Ballarini. In front of the camera, we see black and white footage of Charlie Mancini in the throws of war, in addition to an insightful cameo from Hollywood veteran actor Joe Cortese. With such a multi-faceted cast and interesting back-story, this is certainly not a film to be missed.
A War Hero 3.0