In a world of fake content, machine learning and AI it's difficult for human eyes to know what is true and authoritative. Google's E-A-T initiative does just that. We've been studying Google's E-A-T concept since 2017. And have been infatuated with all Google has said on the topic. In this article, I will explain what E-A-T is and how you can make changes to help improve your E-A-T which could potentially translate into better rankings and more traffic.
E-A-T stands for Expertise, Authoritativeness, and Trustworthiness. It is a critical factor in Google's algorithm for evaluating the quality and credibility of content published online. These factors are important for SEO because it helps Google understand whether a website's content is trustworthy and useful to users. Spark Factory specializes in E-A-T for SEO (Search Engine Optimization). "I mean, what is the sense of publishing spam," as their CEO Scott Aadal would say. "If the content does not educate the user, why have it. It's just noise."
Quality Raters are humans, who determine whether the search results are meeting the users intent in SERPS. Remember user intent, the elephant in the room. Quality Raters Guidelines is a 176 page guide to determine whether the content is valuable. Moreover, how pages online should be classified and represented through Page Quality (PQ).
So let's hop into it.
What is E-A-T?
E, for Expertise – refers to the knowledge and experience of the website's content. This includes the author's qualifications, education, and experience in the subject matter. Links to other experienced information is also important to prove that the content writer knows what they are talking about.
A for Authoritativeness – refers to the reputation and credibility of the website and its authors. This includes factors such as the number of other reputable websites linking to the site, and the website's history and track record of providing accurate and reliable information.
T for Trustworthiness – refers to whether the website can be trusted to provide accurate and reliable information. This includes factors such as whether the website's content is free of errors and is transparent about its sources.
By demonstrating a high level of E-A-T, a website can signal to Google that its content is trustworthy, useful, and credible, which can result in higher rankings in search engine results pages (SERPs). Ultimately leading to more traffic visiting the site.
User experience: How UX affects E-A-T and SEO
The User Experience (UX): A website that is easy to navigate and find information quickly and easily will be considered more trustworthy and credible, because it helps users to find the information they need and shows that the website is well-maintained and cared for.
Transparency:
A website that is transparent about its authors and business practices can help to build trust with users and demonstrate a commitment to providing accurate and reliable information. This can include providing contact information, information about the company's mission, and disclosing any conflicts of interest.
Brand Reputation:
A well-established and reputable brand can also help to establish trust and credibility, as users are more likely to trust a website that is associated with a well-known and respected brand.
Quality of Backlinks:
Quality of backlinks play a significant role in determining website authority and trust. The more reputable and high-authority websites that link to a site, the more likely it is that the site will be considered trustworthy and authoritative by Google.
Fresh and Up-to-Date Content:
Websites that consistently provide fresh and up-to-date content can help to establish themselves as a trustworthy source of information and demonstrate their commitment to providing accurate and current information.
By focusing on building a website that demonstrates high levels of E-A-T, website owners can work to improve their search engine rankings and attract more visitors to their site.
Implementing E-A-T in your SEO strategy
Social Proof:
Positive reviews, testimonials, and ratings from other users can help to build trust and credibility for a website, as they provide an indication that other people have found the site's content or products to be trustworthy and valuable.
Compliance:
Website compliance with industry guidelines and regulations, such as those set by professional organizations, can help to establish trust and credibility with users. Responsiveness: A website that is responsive to users feedback can help to build trust and demonstrate a commitment to providing accurate and reliable information for people.
Security:
Website security measures, such as encryption and secure payment processing, can help to build trust with users by protecting their personal and financial information.
Variety of Content:
A website with a wide range of content types, such as text, videos, images and infographics, can help to establish the site as a comprehensive and trustworthy resource for users.
Multilingual Support:
A website that supports multiple languages can help to establish itself as a trustworthy and reliable source of information for a global audience, By focusing on improving E-A-T a website will be considered a valuable, trustworthy, and authoritative source of information by users and Google, leading to better ranking and traffic.
Unlocking the Secrets for Enhancing Your Google E-A-T Score
It's no secret that E-A-T is a critical component of Google's effort to police the web and decide the value of content. Unfortunately, poorer E-A-T can make it harder for your webpage to rank well. So does this indicate only established authorities will be able to achieve excellent rankings? Is there nothing else that one might manage? Of course, you may strengthen E-A-T! In conclusion, I'll give examples of pages which we believe saw better ratings after following our recommendations on how best to improve their E-A.
To discuss ways of improving E-A-T, we'll look again at quotes that come from the Quality Raters Guide Line (QRG). Here are several things that are suggested in the QRG that can give us clues to how Google might assess E-A-T.
Not all of these are important for every niche though. For an E-Commerce store, reviews could be seen as a sign of the store's popularity. For a doctor's website, Google is more likely to look at signals demonstrating real life expertise in medicine, references to medical journals, etc. Still, each of these should be considered for your site: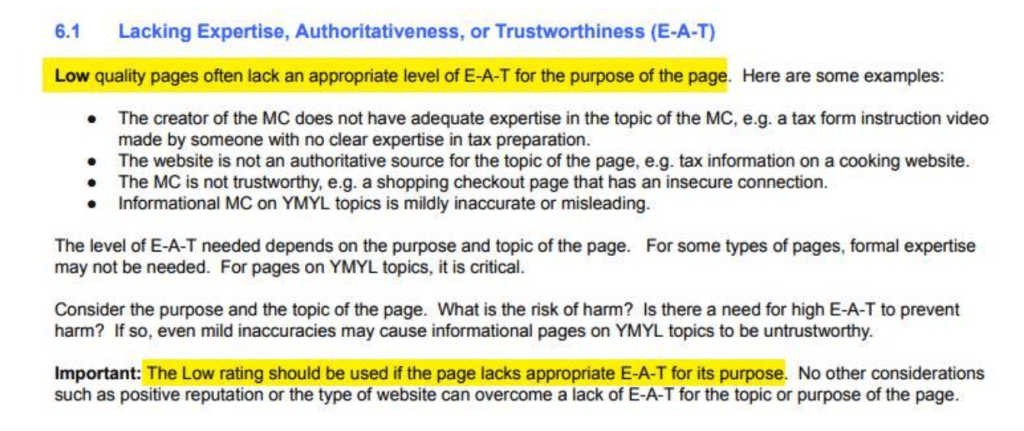 While a better version of a high quality page would be analyzed as follows

More importantly, make sure that the content is not plagiarized.
Overall, E-A-T is not a ranking factor but will lead to higher quality content which should result in higher engagement of users seeking less noise and more educational content.