Yoga, an ancient practice, addresses every dimension of the human system- body, breath, emotions, mind, and personality. But yoga is specifically helpful for relieving stress as it helps enhance mindfulness and self-compassion through controlled breathing, stretching asanas and poses, meditation, and mental imagery.
For a lot of people nowadays, stress is there every day. In some people, it is mild, while among others, it is unbearable. Therefore, finding various ways to relieve stress and stop it from getting deep into life is essential.
Some of the significant symptoms of stress are:
Tense muscles
Dry mouth
Headache
Chest pain
Body shaking
Feeling cold
Loos of sexual activity
Upset stomach
Grinding teeth
Low in energy
Depression
Lack of focus
Feeling lonely
Consistently worrying
Anxiety
Irritability
Forgetting things
Yoga is one of the best ways to get relief from stress which is taught in a lot of best yoga schools in Rishikesh.
How does yoga assist in relieving stress?
Practicing yoga triggers the parasympathetic nervous system of your body, which sends signals to your body and mind for relaxation. For example, when you practice deep breathing in yoga, it assists you in calming you, lowers your blood pressure, reduces your heart rate, and helps you focus on attention and your thoughts.
The yoga asanas help you tune with your body, stretching and strengthening your muscles, releasing the tension, and easing your body pain.
Yoga also helps reduce the cortisol level or the stress hormone in your body. It improves your sleep, immune system, and digestion, all of which are affected because of stress. It eases depression, mood swings, and sadness by storing serotonin and dopamine in your brain. Yoga also helps ton the vagus nerve, also called the well-being nerve, which helps people shift easily from a stressed state to a relaxed state.
There are many advantages of yoga for the human body, and the best thing is the more you practice, the more you will be able to handle stress.
Practicing yoga eases your physical and mental pace by helping you to focus on mindful breathing, physical postures, and simple meditation. This assists you in decreasing stress, lowering blood pressure, increasing lungs capacity, and enhancing respiratory function and heart rate.
Like all other forms of exercise, it boosts the production of hormones like endorphins that are important for promoting happiness, calm feeling, and health. In addition, endorphins released when you exercise play a vital role in managing physical pain and negative emotions.
Not every yoga pose is equal, from beginner-friendly poses to intricate eagle poses. Each has its unique benefits, from enhancing your posture to getting rid of headaches and insomnia and restoring your lymphatic and nervous system.
Here are seven yoga poses that help in decreasing stress:
Standing forward bend: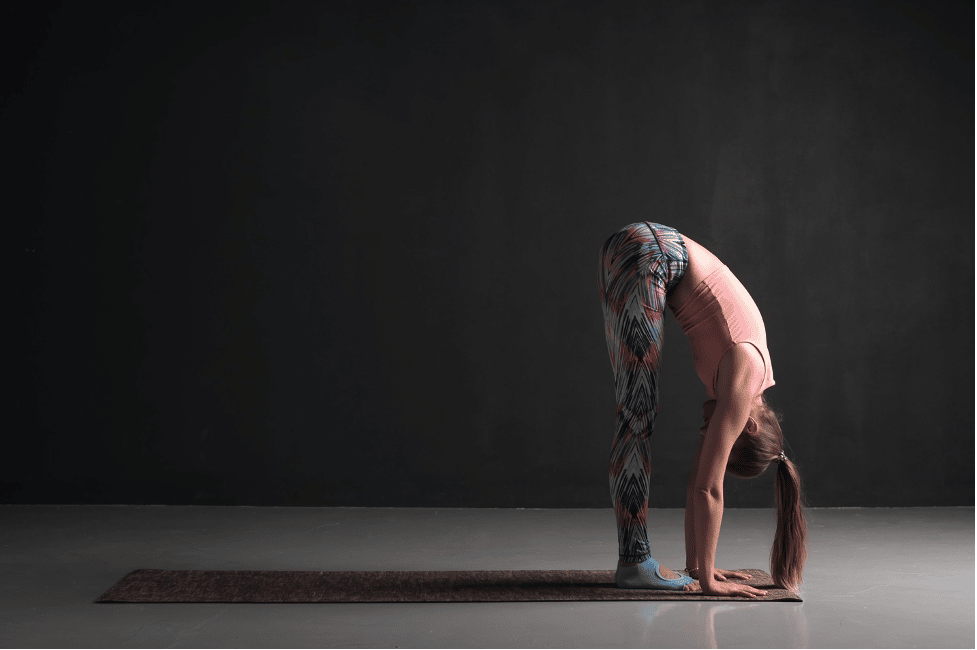 This is a yoga pose that helps in stretching your hamstrings, hips, and thighs. It is also highly efficient for relieving stress, depression, and fatigue.
To perform this yoga, reach tall and exhale in the forward direction. Bend your knees enough to place your palms on the floor with your head pressed against the legs. Remain aware of the spine stretching in varied directions when you pull your head down and in. For a deep stretch, you can keep your legs straight. Hold on to this position for about 6 – 8 breaths, then inhale, stretch your arms in an outward direction and raise them and your torso back to the standing position.
Cat- Cow pose: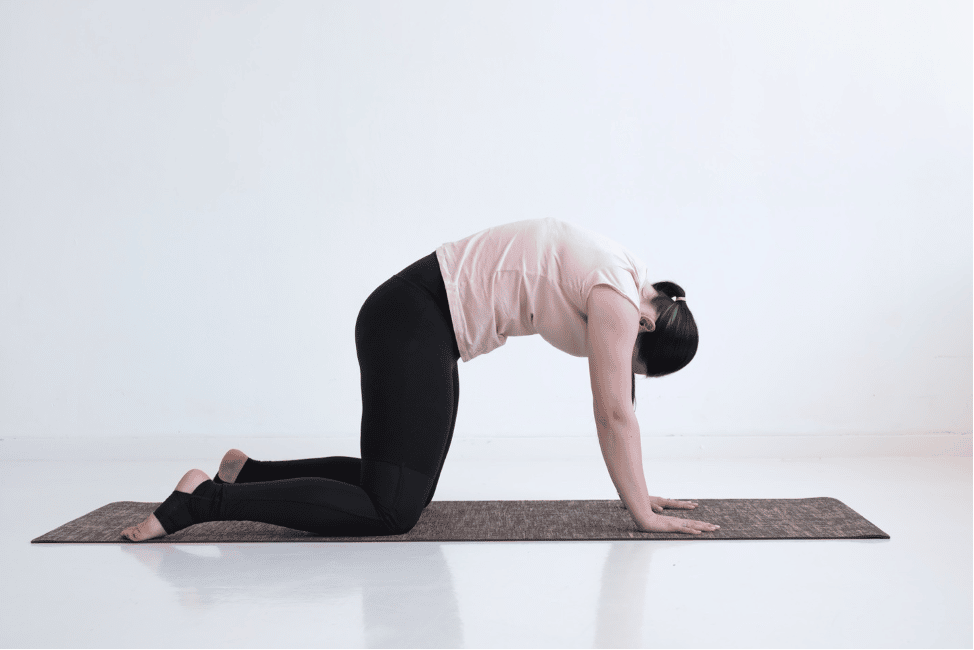 This yoga pose helps in soothing and stretching your lower back. In addition, it also massages your spine and helps in getting relieved from stress.
Cat pose: Initiate this pose on all fours, then while you exhale, round your back in the direction of the ceiling and bring up your navel in the direction of the spine. Come back to the neutral position where your spine and head remain aligned.
Cow pose: Breath in and tilt your pelvis back so your tailbone will stick up. Now while keeping the abdominal muscles hugging the spine, draw your navel in.
Easy Pose: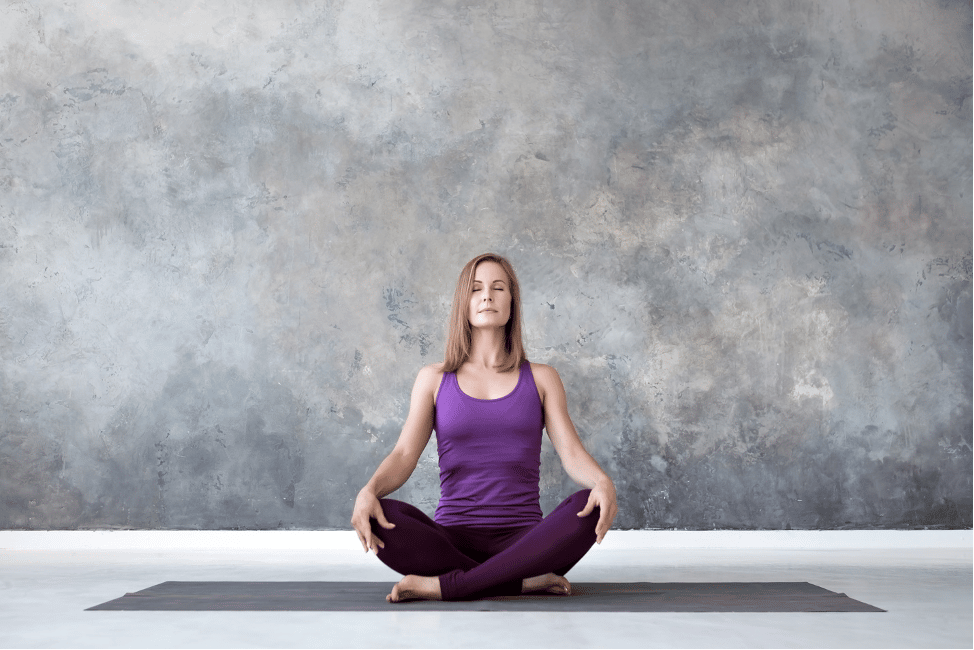 It is a yoga pose that helps open the hips, lengthens the spine, and promotes serenity. Get relief from physical and mental exhaustion along with the elimination of anxiety.
At first, sit up straight while extending your legs to the front side of your body. Then while keeping your knees wide, keep each of your feet behind the opposite knee and cross your legs towards the torso. Then keep your palms down, and keep your hands on your knees. Now align your head, spine, and neck and sit while keeping your weight balanced. Then lengthen your spine, soften your neck, and slowly relax your thighs and feet. Remain in this pose for a few minutes and slowly release and change the cross of your legs.
Head to forward knee bend: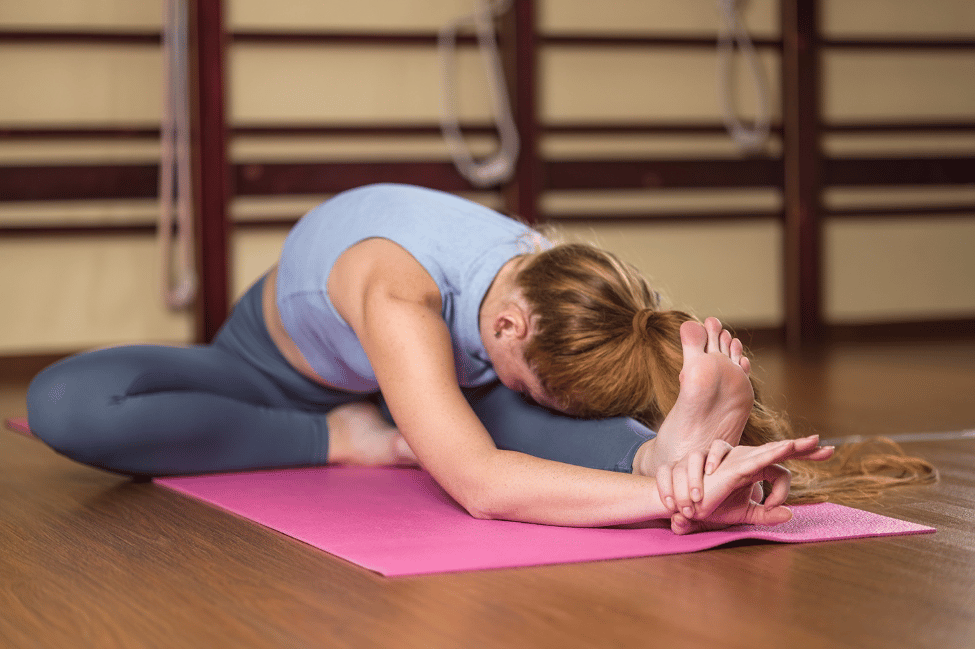 A pose that helps in relieving depression and anxiety. In addition, it calms down your brain and assists with headaches, insomnia, and fatigue. To do this pose, sit straight while keeping your legs extended, bend your left leg and bring in the foot sole to the upper right-hand side thigh. The left knee should be placed on the floor. Keep both arms on each side of your right leg and start inhaling. Make a turn in the direction of your extended leg, and then exhale while folding forward. Hold on for 5-6 breaths, and then repeat all these poses on the opposite side.
Bridge Pose: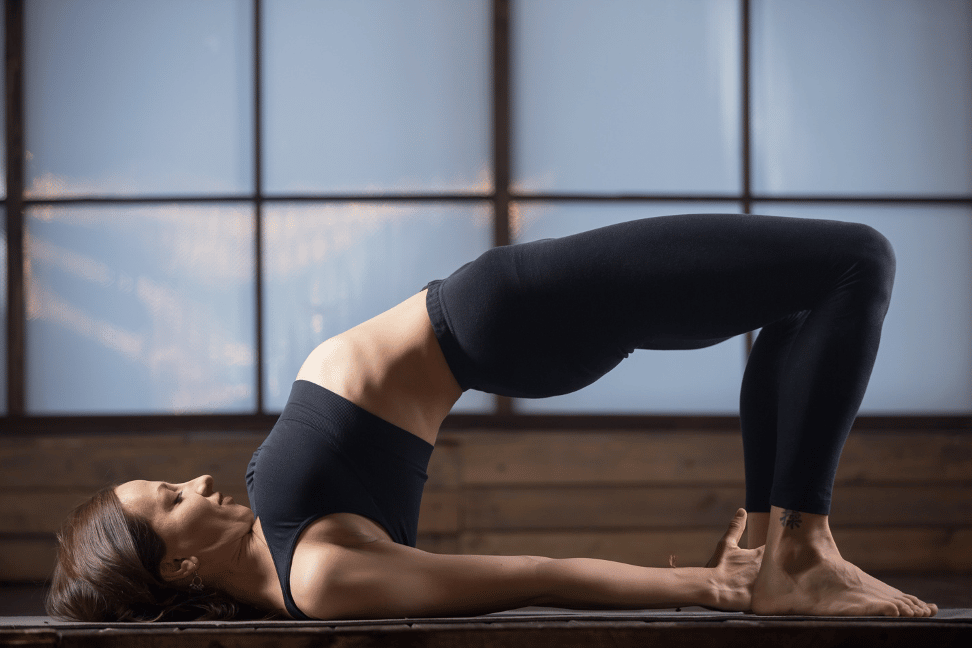 It's a yoga pose that helps decrease anxiety, insomnia, fatigue and backaches. It offers slight stretching of your back and legs.
For practicing this pose, lie down first on your back and then bend both of your knees. Now keep your feet flat on the floor, keeping hip-width apart. Slide your arms inside of your body with your palms facing downward. Start inhaling and lift your hips, rolling your spine off the floor. Now squeeze your knees slightly together to keep your hips width apart. Press down into your shoulders and arms to open the chest upward. Engage your legs and your buttocks for lifting your hips high. Breath in and hold on to the position for about 4-8 breathes.
Corpse Pose: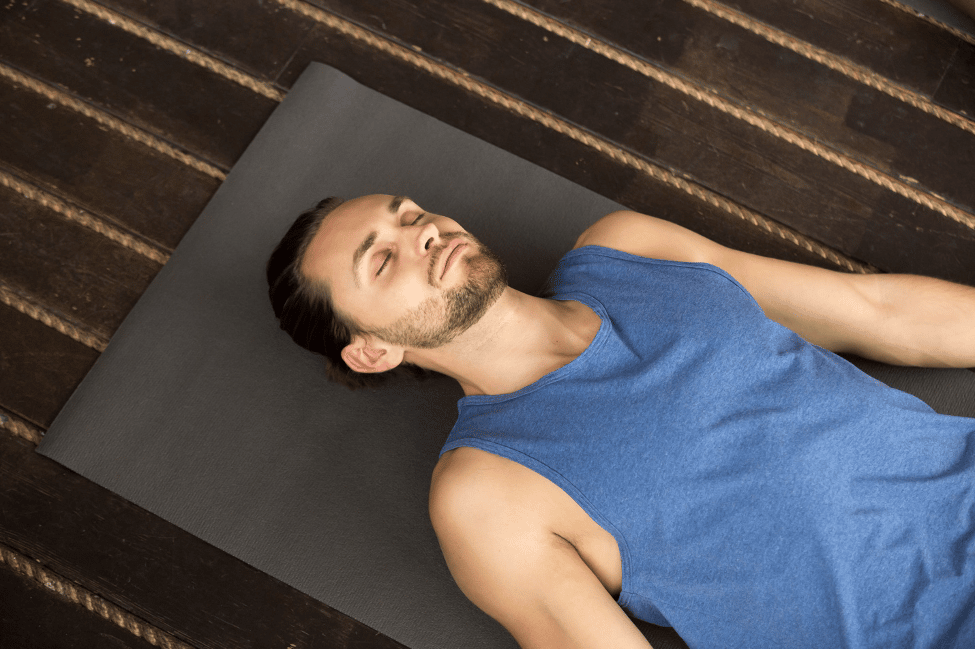 It offers complete body relaxation and puts your body at ease. It slows down your breathing, decreases blood pressure, and calms your nervous system.
Lie down on your back to perform this yoga, keeping your legs together without touching. Keep your arms at the side with your palms facing upward. Allow your eyes and your face to soften, and then close your eyes while taking deep breathing. Start at the top of your head, and draw your attention to every part of your body until you reach your toes. Hold on to this pose for about 4 – 5 minutes.
Child Pose: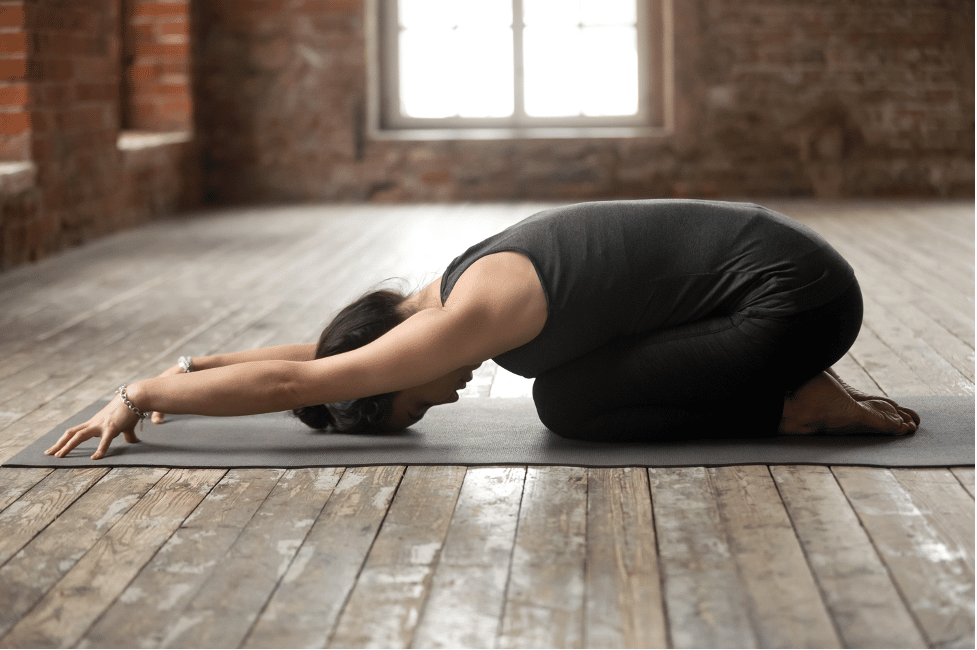 It is a pose that calms your nervous system and the lymphatic system. This is a resting pose that helps in relieving stress and has a soothing effect on your mind.
At first, kneel on the yoga mat keeping your legs together and gradually sit back into heels. Next, extend your torso and bend forward from your hips so that your chest rests down on your thighs and your forehead rests on the ground in front of you. Next, allow your shoulders to curl around and keep your hands next to your feet and palms up. Hold on to this position for about 5-6 breaths.
As we can see, yoga has a calming effect on your body and relieves stress. So, it's unsurprising that many people turn to this therapy for good. A 200 hour yoga teacher training in Rishikesh stresses this stress-relieving yoga poses more.